This week I have the honor of sharing on The Stay-At-Home-Mom Survival Guide. My talented friend, Jaimi Erickson has been a huge supporter of my blog–gotta love that!
An early childhood expert, Jaimi asked me to help celebrate the three year blog-a-versary for her awesome blog by sharing some words of encouragement for  moms. Her super-practical website is filled with tips and activities for kids.
Now I am all about celebrating, and way better way to celebrate than bare you soul for the world to read?
True Confessions
They say confession is good for the soul. I've always been the sort of gal who struggles to get it all together. Disorganized, usually late, inconsistent, often air-headed…
So you can imagine my surprise, when I began to realize that I was struggling with a common, but little talked about syndrome. So it's time to come clean with a true confession here:
I struggle with Super-Mom Syndrome.
The wonder of holding my son for the first time quickly turned into fear at the thought of actually leaving the hospital–this is the fear that sets us up for Super-Mom Syndrome.
What if I can't be a good mom, was the silent question in my heart.
There is something wonderful and awful about the responsibility of raising children. Joy and terror can drive the most level-headed into a state of vamped up perfectionism.
Wanting to get it right, quickly morphed into Super-Mom Syndrome. For you see, Super-Mom Syndrome thrives on doing all the right things to build the perfect family.<Tweet.
I wanted to be a good mom. I wanted to honor God with my best. We used cloth diapers and I made our own baby food. I baked bread, read Bible stories, started my kids on chores and read books on discipline. I would have made my own Kleenex if I had thought of it.
All the while, I'd watch other moms, compare myself, and find fault with my efforts.There was always a gap between the ideal and the reality of life with three small children.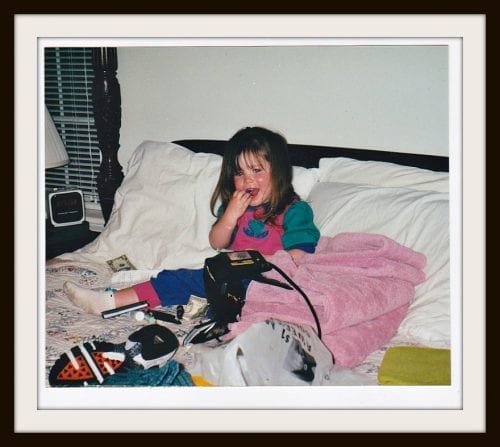 Continue reading this tell-all confession… Make sure you click over to Jaimi's blog because you don't want to miss this!