This month I'm grateful for talented friends who are guest posting as I finish up the manuscript for my debut book, Holy in the Moment. This week I'm finishing my book and traveling to California to speak at a Planting Roots Conference. We all need a bit of help from our friends from time to time, and I hope you'll enjoy meeting a few amazing women who are using their gifts to spread hope and encouragement.
Today, I'm thrilled to feature an author interview with Michelle Ule. When I met Michelle last year, I was intrigued by the book she was writing, a biography of Mrs. Oswald Chambers. I'm not sure how many times I've read My Utmost for His Highest, but Chamber's devotions have been part of my morning routine for years. And years. Though I read many other books, I continue to come back to Chamber's devotional.
I hope you'll enjoy meeting Michelle as she answers one question I asked a single question.
 "What surprised you most when you wrote Mrs. Oswald Chambers?"
No one has asked me that–what a fun question.
No real biography of Biddy Chambers existed. That meant almost everything I learned about her while writing my biography Mrs. Oswald Chambers: The Woman Behind the World's Bestselling Devotional, surprised me!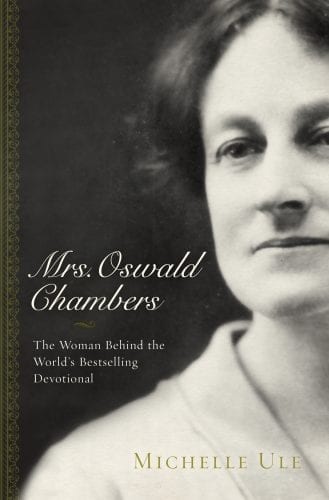 I knew basic facts about Biddy: married to Oswald Chambers, Lady Superintendent of his Bible Training College, extraordinary stenographer, mother of Oswald's only child and compiler of his books. I knew Biddy traveled to Egypt during World War I with their toddler to work with Oswald at a YMCA's "hut" north of Cairo for nearly four years.
The woman behind the devotional.
What I didn't realize was how much we know about Oswald Chambers came to us through Biddy. (Her Oswald-given nickname; originally "Beloved Disciple," it morphed into B.D. thence Biddy). It soon became clear that while the God-inspired words came from Oswald, the books and his fame were all the result of Biddy's stenography skills. She "took down" with pencil and paper everything her husband taught during the seven years of their marriage.
When Oswald died unexpectedly of complications from appendicitis in 1917, Biddy was left a penniless 34-year-old widow with a four-year-old child in the middle of insect and disease-ridden Egypt during a world war.
The YMCA asked her to stay on and run the hut until the end of the war. She repatriated to a broken England with her headstrong daughter, then six-years-old, and few resources beyond her trunks full of notes.
From those notes, Biddy compiled 30 books—among them My Utmost for His Highest. With two exceptions, all the books with Oswald Chambers' name listed as author were published after his death.
Indeed, Biddy crafted My Utmost for His Highest after combing through her notes, pulling selected paragraphs from all Oswald's teachings into themes which comprised the 366 readings. It's a masterful editing accomplishment—some of the daily readings are single paragraph excerpts from up to four different lectures woven together for a pointed devotional on a theme.
Even as I've examined and thought about how Biddy constructed My Utmost for His Highest, I'm still amazed at what she achieved. It took an encyclopedic knowledge of Oswald's lectures, combined with an ear keen to the direction of the Holy Spirit to distill spiritual wisdom into 250 succinct words. She did it 366 times to make a devotional which has not been out of print in 90 years.
But it's not just the accomplishment of "the books," which surprised me most. Biddy's example of living her utmost for God's highest glory amazed me on countless occasions. She chose to follow God's lead in situations I would not have been faith-filled enough to do myself.
Commitment to trust God.
For example, during the last 18 months of World War I, Biddy prepared faith-affirming pamphlets using her notes. The YMCA printed 10,000 copies each month and sent them to huts all over the world. So many soldiers wrote to thank her, Biddy knew Oswald's dream of turning the notes into books was what she should do with her life.
When she returned to England in 1919, Biddy took her material to a publisher. He saw no future in Oswald's lectures and sent her on her way.
Meanwhile, friends offered her a position at a Bible college for female missionaries, the same job she worked before the war at the Bible Training College. Ridgelands would have given Biddy and her daughter a place to live, surrounded by people who loved them, and an important God-honoring task.
But, she felt called to turn Oswald's notes into books. Should she take the Bible School job and work the books on the side? Or, live in poverty to create the books and pass up the Bible school's security?
She chose the books and poverty instead of security.
I doubt I would have made that choice.
Yet, by walking close enough to the Lord to recognize His calling on her life, Biddy Chambers compiled a devotional that has encouraged believers since 1927. It was smuggled into POW camps during World War II. Brother Andrew took translations behind the Iron Curtain for decades.
Biggest surprise?
What surprised me the most? Ultimately that so few people knew the stories behind this remarkable woman. Biddy Chambers really did live her utmost to God's highest glory—in far more ways than what I've written here.
She's been an inspiration to me, a catalyst for my faith and an example for me to emulate. I'm so thankful I got to explore and then write about Biddy Chambers' life in Mrs. Oswald Chambers.
Here's a few of my favorite quotes from Oswald Chambers:
"Prayer is the greater work."
"Prayers change me and I change things."
"God never gives us discernment to criticize, but to pray."
"Let God set your words on fire for His glory."
"The worst sinner can never come to the bottom of God's love."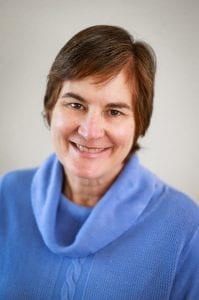 Michelle Ule is the author of Mrs. Oswald Chambers and other published works. You can learn more about her and read her blog posts about Oswald and Biddy Chambers at www. Michelleule.com.