Out and About
It's always fun to get out of my corner and get out on the blog-o-spere. I have the privilege of posting regularly at several sites, 5 Minutes for Faith and More to Be. This month I'm excited to join in the fun at Wives of Faith and Guideposts. Here's a teaser and the links. Come on over and see what's up!
Guideposts: While They Serve
I am honored to be posting at Guideposts for the military blog, While They Serve. This regular feature is a great source of encouragement for military families and those that support them.
Excerpt:
Twenty-four years as a Marine wife has brought frequent moves and many adjustments. The Marine motto Semper Fidelis (Always Faithful) is sometimes jokingly changed to Semper Gumby–the need to be Always Flexible. For me, moving has been God's training tool for learning to embrace change.
Moves become bearers of change as the outward trappings of life are whisked away. With the arrival of the moving truck at our new home, the inventory is checked, the unpacking begins… and life goes on as change moves in.
Yours may not be a military family, but embracing change is a lesson for all–it's a part of every family and every life, regardless of where we live or what we do.
If you know someone who is moving this summer, consider passing this post along.
Wives of Faith
Wives of Faith is a community site by military wives for military wives. It is a great source for devotions, prayer, and encouragement.
Excerpt:
Worn out and exhausted from busy days and the stress that often comes with military life, it's easy neglect the things that feed my soul.
Sometimes I need a change of pace as I commit to refresh my spiritual routine. Maybe you need this too?
The purpose of spiritual refreshment is to reframe our perspective, opening up our spirits to enjoy God anew. Too often, we make our spiritual lives complicated, heaping on guilt, and trying to earn what we've already got.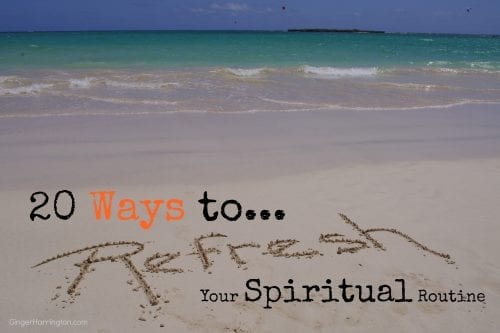 I hope you'll enjoy checking out these great sites. As always, thanks for reading and I'd love to here from you in the comments.