[tweetthis hidden_hashtags="#bookcontract, #holy #choosingGod"]Holy in the Moment, a debut book from Ginger Harrington releases in March 2018. Weehoo![/tweetthis]
Summer days are rushing past and here we are cruising into the middle of July. Not quite sure how that happened! You may be wondering why I've not been hanging out at GingerHarrington.com as frequently these days. Or maybe you've been busy living your own life and haven't noticed that my last post was weeks ago.
Big news, Friends!
I'm thrilled to announce that I'm publishing my first book with Abingdon Press!
The book was contracted recently with a manuscript due date on November 1. This book baby will release in March and the writing schedule is brisk. Last week I learned the marketing team would like to have as many chapters as possible by August 21. (Trying not to hyperventilate . . .)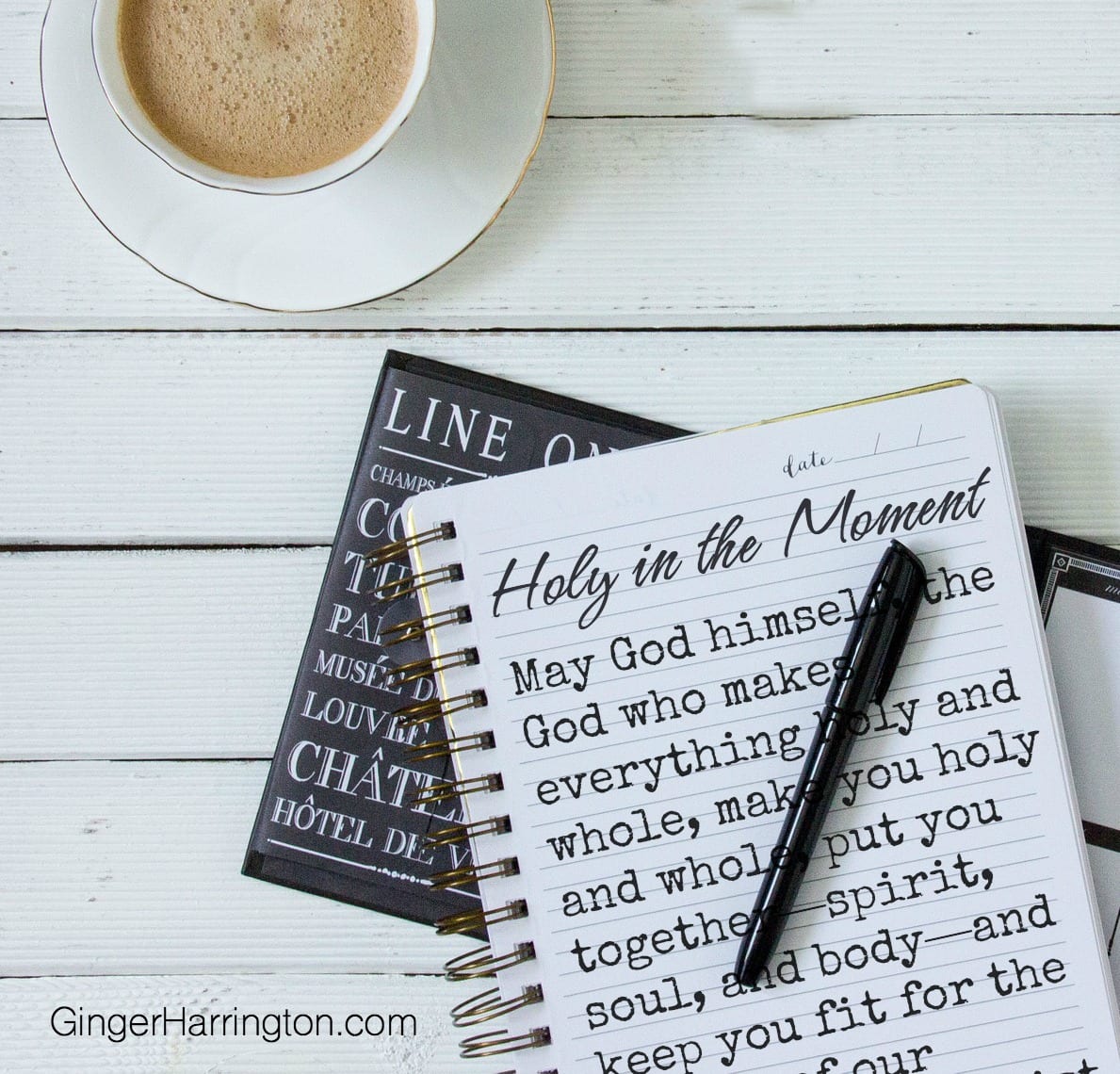 Most dreams take time, work, and space to grow into. More than developing skill and coming up with ideas, God has to grow us into the messages we have lived, so we can authentically tell our stories, and encourage others with humility and love. Publishing a book has been on my dream list since 2oo9. Many days I felt like I worked full time at a job I didn't really have.
On discouraging days, I felt like a kid playing dress up insisting, "I want to be a writer when I grow up." Waiting isn't failure and God's "not yet" doesn't mean "not ever."
In truth, these years have been far more productive, wonderful, and full than I ever dreamed.
Now the opportunity is here, my heart is a strange combination of giddy, grateful, and more than a little nervous. Choosing to trust God moment by moment and page by page is how outlines grow into books, children grow into adults, and blessings turn into miracles.
In the process of writing this book, I have to live it out, trusting God with every word. And you know what?
There's no better place to be.
Here's one thing I know for sure.
Every Christian book that makes it to the market place is a work of the body of Christ. Many people contribute to every book–those who teach, train, encourage, read, cheer, help, pray, and support.
However, prayer is the gift that truly brings a book from dream to reality. So thank you for reading and being a part of this grand adventure!
I invite you to join me as we pray this book forward until we hold it in our hands as God releases it into the world.
Ta-da! Here's a sneak peek at the cover comp.
Holy moments change lives and steer destinies in God's direction, but it all comes down to attitudes and choices made one moment at a time. What becomes possible when we stop trying to make ourselves better and simply trust God to guide, help and provide in each moment as it comes? What's released when we intentionally reach for more of God in the moments of our days?
Though this word sometimes reeks of stale religion bound tightly with pious do's and don'ts, holiness is a refreshingly simple concept. You won't find it sitting on a shelf of musty, old books no one wants to read. When we look, we'll discover the sacred in our everyday moments, not moments far off, hidden in prayers of monks or lost in whispers of saints.
Holiness in the moment can be as simple as our thoughts, words, and actions as we choose to love God, embrace truth, and enjoy life. Making intentional choices to trust God is where holiness happens right in the middle of an ordinary day.
A day just like today.
If we choose holiness in this moment, what difference could it make?
. . . . . . . . . . . . . . . . . . . . . . . . . . . . . . . . . . . 
I hope you're as excited as I am! 
Maybe you'd like to share my news FB, Twitter, or Pinterest? That would be awesome!
Choosing holy. Choosing whole. One moment at a time.