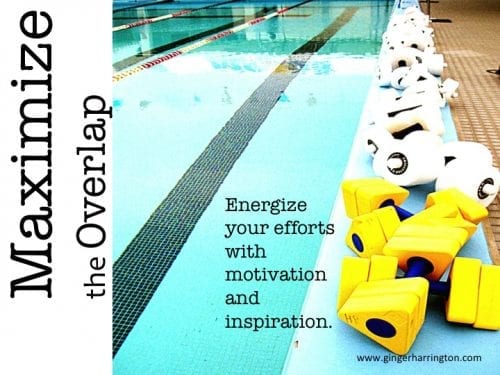 "Whatever you do, do your work heartily, as for the Lord rather than for men." Colossians 3:23
The overlap between experience and calling.
When we meet someone, the first thing we often ask is, "What do you do?"
For many of us, there may be an overlap between personality, spiritual gifts, and vocation. When there is that overlap, vocation becomes a good fit, often hitting a sweet spot.
You are God's gal on the job.
There are many ways to use our gifts– in ministry, in community, in industry.
You don't have to be inside church doors to let those spiritual gifts roll out in blessing, productivity and relationship. You can be God's person on the job whether you work in the home or in industry. Learn to maximize the overlap between gifts, work, and calling by energizing your efforts with Godly motivation. Do your work for the Lord.
"Whatever you do in word or deed, do all in the name of the Lord Jesus, giving thanks through Him to God the Father" (Colossians 3:17).
My primary spiritual gift is teaching. When God teaches me something, that new insight comes bursting with the desire to tell someone. Interestingly, my work experience includes teaching English, social studies, drug education, and water fitness.
See the overlap?
Which came first?
Personality traits, talents, vocational interests, or spiritual gifts?
Growing up, I loved to play teacher. I became a Christian when I was 15, and later decided to teach English my junior year in college. I didn't begin teaching Bible studies until 10 years later, but God was working in the whole of my life–experience, training, gifts, and calling.
Class room teaching experience, prepared me to answer God's call to speak to groups in ministry. In many ways, the animation required to hold the interest of middle schoolers has helped me present material that is fun and engaging. Also, teaching English provided experience and background that I have definitely tapped into in writing Bible Studies.
We tend to think in chronological order of time, but God is working with the whole of who we are and who He made us to be. His sovereign hand is at work in all of our lives which includes personality, experience, opportunity, and gifts. Though not all spiritual gifts have a direct correlation with vocations, your spiritual gifts and calling can come into play in your work as well as in ministry.
How do you find ways to maximize the overlap between gifts, work, and calling? Share your experience by leaving a comment in the box below. Can't wait to hear from you!