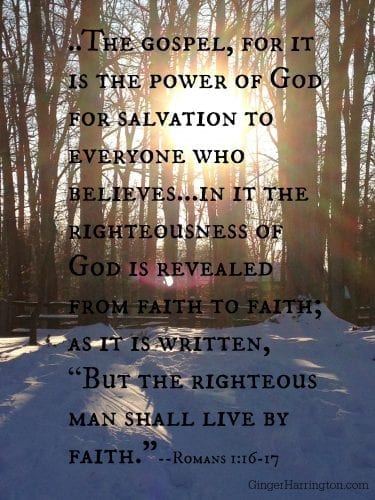 "For I am not ashamed of the gospel, for it is the power of God for salvation to everyone who believes, to the Jew first and also to the Greek. 17For in it the righteousness of God is revealed from faith to faith; as it is written, 'BUT THE RIGHTEOUS man SHALL LIVE BY FAITH.'" ––Romans 1:16-17 (NASB)
Sometimes living by faith can seem like a dry, rather nebulous concept. Other times it can seem like something only the strongest of Super-Christians can pull off. Both of these viewpoints miss the vitality of growing faith. God's righteousness is revealed through power that brings salvation through Christ (the gospel). God's way of living and doing right is also uncovered in a progressive way through faith; it is a process of discovery.  As I grow in faith, God reveals more of Himself, which stimulates more faith. The Amplified Bible expresses this concept in this way: "…both springing from faith and leading to faith [disclosed through the way of faith that arouses to more faith]."
God designed faith to grow strongest in a two-way, active relationship. Faith is not like a gift that I open and display on a shelf, admired but useless. Faith is a practical gift that is intended to be used continually. Faith begins with God (Eph. 2:8-9) and God graciously stirs up more faith as I embrace and live out the faith that I currently have. God is doing His part, am I doing mine?
Am I truly participating in the process of growing in faith, or am I somehow expecting God to do it all?
Faith is not only something that is received; it is also conviction and faithfulness that affects how I live.
Have you noticed that living by faith is something that is easy to say and usually harder to do?
What does it really mean to live by faith?
When I read the words, "BUT THE RIGHTEOUS man SHALL LIVE BY FAITH," I notice that the word but indicates there is another way to live, that living by faith is a choice. When life brings challenges and problems that tempt me to waffle in doubt, I can choose to live by faith, believing God no matter what. Too often I choose to worry and search for answers that I think can control. In this context the word live means to enjoy real life, to know the vitality of God in my soul, to be active, powerful, and efficient, blessed eternally, to know true life and worth (e-sword.net).  There is significance and worth embedded in these words that grows from faith that goes far beyond what I think—it isn't a head thing. It is an everything kind of thing.