Lucinda Secrest McDowell, guest author
Today my soul sister, Lucinda Secrest McDowell, has joined me to encourage us to live soul strong by embracing our authentic calling. Her comments are from her new interactive discipling guide, "Soul Strong – 7 Keys to a Vibrant Life."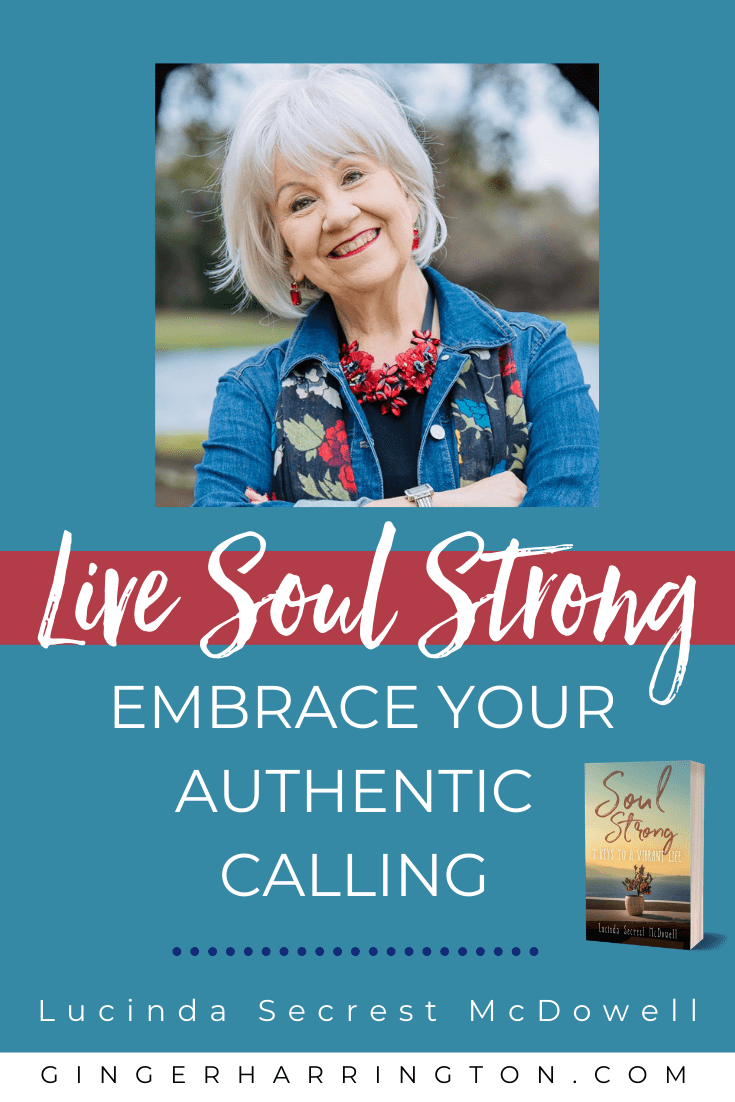 What is your unique calling?
Our universal calling for each believer is to live as a follower of Jesus in every aspect of life as we seek to live out the grace and truth of Jesus. I love how Frederick Buchner puts it: "The place God calls you to is the place where your deep gladness and the world's deep hunger meet."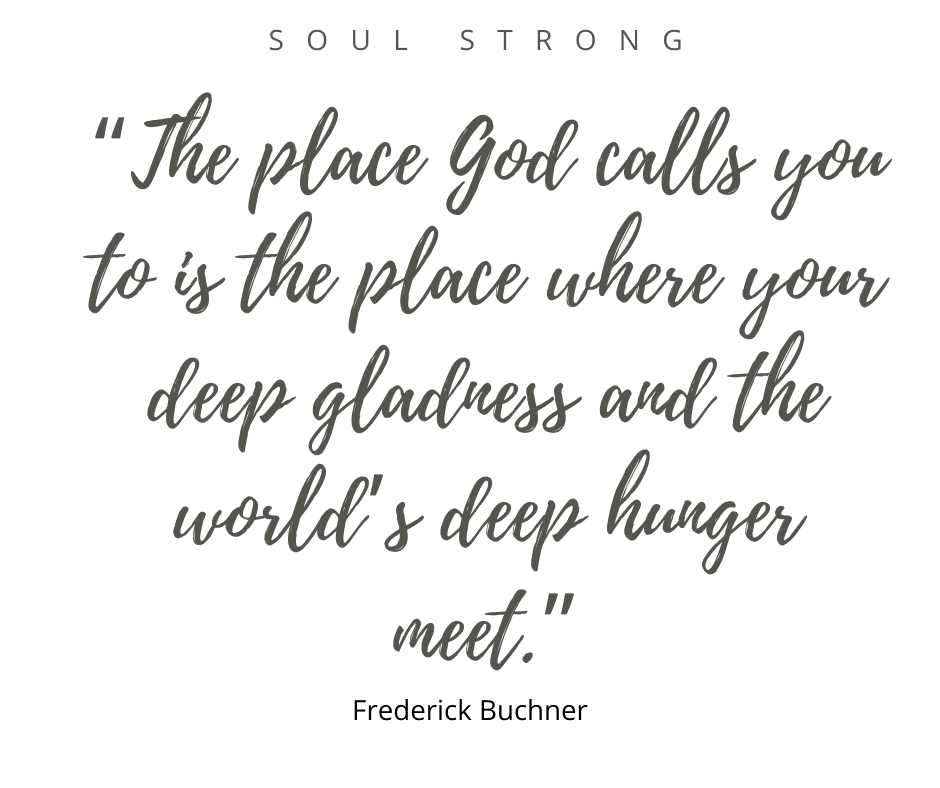 But what if your life seems impossible?
Or you are still trying to figure out which path will lead to fulfilling your purpose? A mentor long ago gave me wise advice when trying to make a decision: Choose the path that appears to coincide with the arc of your life.
We can choose.
It is actually within our power to decide each day how we will live out the numerous interruptions, joys, crises, and surprises that come our way as twenty-first century women. With endless resources provided by the One who knows us best and loves us most – God, the Creator and Sustainer of the universe.
The great news is that God is not limited by our decisions – He can confirm a call, redirect us, or even open a surprising new door of opportunity.
[tweetthis hidden_hashtags="#Soulstrong"]Our greatest choice is obedience to His will and His way. But that looks different on each person.[/tweetthis]
God can use anything in our lives – gifts, experiences, brokenness, training – to use us as influencers for His kingdom. He further equips us as we take baby steps forward, perhaps starting with one small step of obedience.
The best part is He promises to be with us on the journey.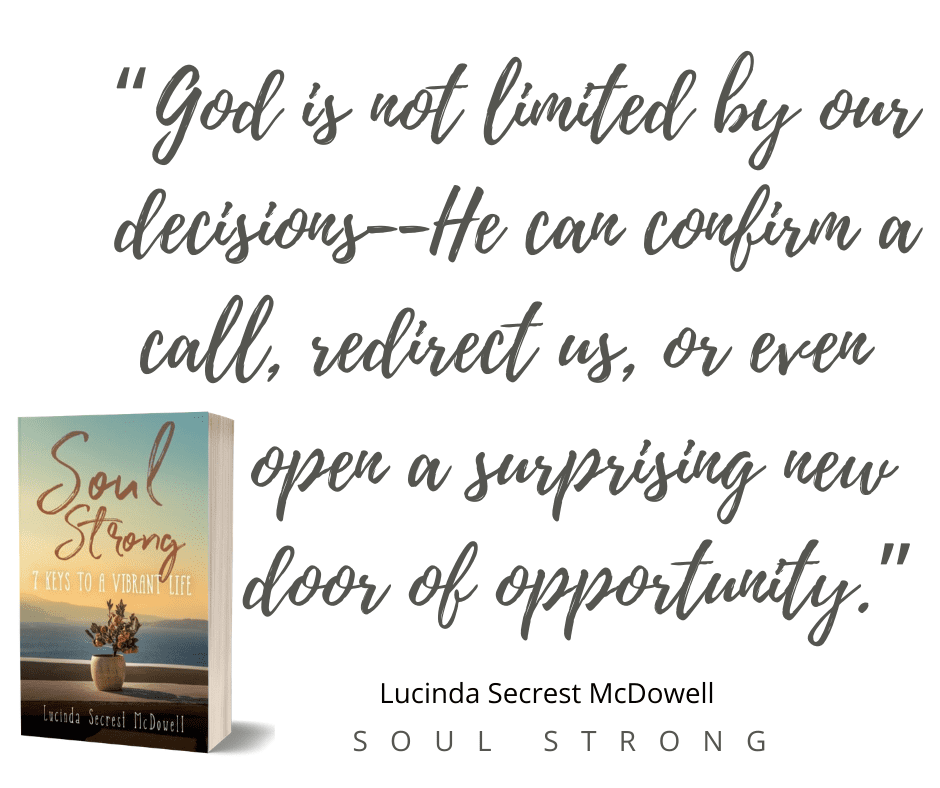 Lessons from the life of Moses.
I love how Moses' story so clearly illustrates these principles. He certainly had a rich background filled with seemingly opposing roles – prince of Egypt and murderer, a solitary life on the family farm and a public life leading an entire nation. There were for Moses – as there inevitably are for us – times of drawing closer to God in the wilderness and times of boldly going forth to fulfill our destiny.
Perhaps my favorite conversation is when God asks Moses to do what he feels totally unqualified to do. In Exodus chapter 3 we find Moses going about his business tending sheep when the voice of the Lord calls his name, "Moses, Moses."
God has been preparing Moses for this very moment as He reveals both the need and the call:
"I have certainly seen the oppression of my people in Egypt… Yes, I am aware of their suffering. Now go, for I am sending you to Pharaoh. You must lead my people Israel out of Egypt." (Exodus 3. 7, 10)
Consider the ensuing dialogue and perhaps you can think of a time when you sought to argue with God about a certain calling:
When God said, "You must lead my people Israel out of Egypt." (Exodus 3.10)
Moses responded, "Who am I to appear before Pharaoh? Who am I to lead the people of Israel out of Egypt?" (vs 11)
When God said, "I will be with you," (Exodus 3.12)
Moses protested "If I go to the people of Israel and tell them, 'The God of your ancestors has sent me to you,' they will ask me, 'What is his name?' Then what should I tell them?" (vs 13)
When God said, "Say this to the people of Israel: I am has sent me to you." (Exodus 3.14)
Moses protested again, "What if they won't believe me or listen to me? What if they say, 'The Lord never appeared to you'?" (Exodus 4.1)
When God said, "If they do not believe you and are not convinced by the first miraculous sign, they will be convinced by the second sign." (Exodus 4.8)
Moses protested again, "O Lord, I'm not very good with words. I never have been, and I'm not now, even though you have spoken to me. I get tongue-tied, and my words get tangled." (vs 10)
Then God said, "Now go! I will be with you as you speak, and I will instruct you in what to say." (Exodus 4.12)
But Moses again pleaded, "Lord, please! Send anyone else." (verse 13)
Have you ever pleaded with God to "send anyone else?"
When it seems impossible. . .
I will never forget when it became abundantly clear to me that my life story would include both getting married and adopting three children ages 9, 7 and 4 – all at the same time! I assure you that my response to God was something like "How can I possibly be the wife and mother these precious people need?" God's assurance of his presence, provision, and power gave me courage to do just that. For the past thirty-six years.
That very year, Madeleine L'Engle had just written "Walking on Water," a book that was feeding my soul. Even today I can recite her words by heart because they were used to help make me soul strong back then.
"We are all asked to do more than we can do. Every hero and heroine of the Bible does more than he would have thought it possible to do, from Gideon to Esther to Mary. In a very real sense not one of us is qualified, but it seems that God continually chooses the most unqualified to do his work, to bear his glory. If we are qualified, we tend to think that we have done the job ourselves. If we are forced to accept our evident lack of qualifications, then there is no danger that we will confuse God's work with our own, or God's glory with our own."
I have had far greater challenges since that time, but these truths have helped me stay soul strong.
Friend, all our gaps will be filled in by God.
When He calls us, we obey and He provides.
This post is adapted from the "Be Authentic" chapter in Lucinda's book "Soul Strong," which also instructs us to Live Loved, Dwell Deep, Pray Always, Overcome Pain, Extend Kindness, and Share Stories. I thoroughly enjoyed reading Soul Strong, and it is an honor to share a book with a message so closely aligned with my heart.  A legacy book for any season of your life with God, Soul Strong encourages us to make intentional choices to invest in spiritual disciplines and practices that strengthen our souls to live well in every moment.
I particularly loved the chapters on  authenticity, dwelling with God, and prayer. Many times as I read, I stopped to reflect or jot down notes in my journal. Packed with personal story, biblical truth, and practical tips, this interactive book will strengthen your soul to live a vibrant, faith-filled life. A great resource for spiritual growth, holy living, and mentoring, Soul Strong will remain on my shelf for years to come.
Meet Lucinda Secrest McDowell
Lucinda Secrest McDowell is a storyteller and seasoned mentor who engages both heart and mind while "Helping You Choose a Life of Serenity & Strength." A graduate of Gordon-Conwell Theological Seminary and Furman University, McDowell is the award-winning author of 15 books including Soul Strong, Life-Giving Choices, Dwelling Places, and Ordinary Graces. Lucinda, a member of the Redbud Writers Guild and AWSA, guest blogs monthly for 'The Write Conversation' and co-directs the annual spiritual retreat reNEW – retreat for New England Writing & Speaking.
Whether building leadership teams, pouring into young mamas, or leading a restorative day of prayer, she is energized by investing in people of all ages. Through "Encouraging Words Consulting" she offers hourly sessions on writing, speaking, and spiritual growth  Known for her ability to convey deep truth in practical and winsome ways, McDowell shares words from "Sunnyside" cottage in New England and blogs weekly at www.LucindaSecrestMcDowell.com.
[wpdevart_youtube caption="" align="left"]vi986iJiNhs[/wpdevart_youtube]
Loved the chance to interview Lucinda as we talked about living soul strong. Lucinda is absolutely delightful! We chatted about trusting God with our calling, God's provision when life seems impossible, parenting, writing with soul strength, spiritual rhythms, shedding a task-oriented mentality of Quiet Time, and going deeper with God through the spiritual practice of Lectio Divina–spiritual reading of God's Word.
Win a copy of our books!
Be sure to strengthen your soul with our book giveaway. Enter below to win copies of Soul Strong and Holy in the Moment!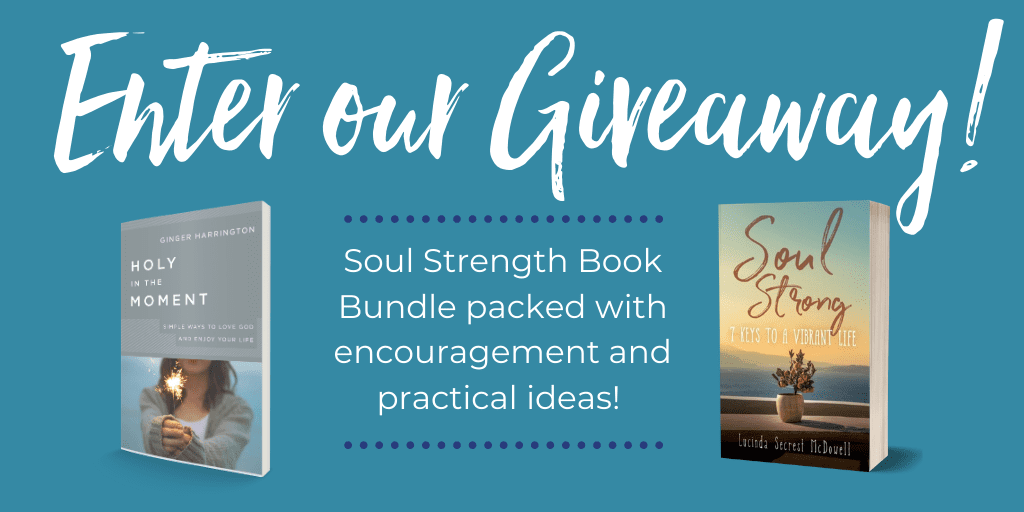 The Holy in the Moment Community on Facebook in an interactive group of readers. We encourage one another to trust God moment by moment. We will be starting a new book discussion later this week. Each week I unpack a chapter of the book with extra encouragement, beautiful graphics, practical tips, and discussion questions to help readers get the most out of the book. Grab a copy of the book and come check us out as this is the perfect time to join!
Disclosure: This post may contain affiliate links. That means, I may earn money or products from the companies mentioned in this post at no cost to you. Read my full disclosure here.