Loving others well can be challenging. As we focus on love this Valentine's Day, be inspired to receive God's love for you. When we have God's love within, we can love others with a pure heart. Be inspired this Valentines' Day with reflections on Agape, God's kind of love found in 1 Corinthians 13 and other passages. Don't miss my Valentine's Gift available in my Subscriber Library at the end of this post!

Valentine's Day is right around the corner and love is at the heart of this holiday:
"If I speak with the tongues of men and of angels, but do not have love, I have become a noisy gong or a clanging cymbal… and if I have all faith, so as to remove mountains, but do not have love, I am nothing. " (1 Corinthians 13:1-2).
Okay, let's be honest here. This just doesn't go down easy. Sure, it's easy to get all holy-ed up, kind of like getting gussied up for a ball. Dressed in glitter and satin, it's easy to feel great about singing with the angels.
But all too soon the ball is over and our good intentions about loving others fade into the ordinariness of life. Life where folks get on your nerves (every last one of 'em), say things that hurt your feelings, and sometimes do things that are just plain wrong.
This is where grit and holiness collide and we have a choice to love.
Motivation comes down to choice when it comes to doing what we do with love. Or not.
If I take this passage at face value, and I am, love is what infuses value into my actions. Most of us won't speak with angel tongues, and we probably won't move mountains with bulldozer faith.  But even if we did do these spectacular feats, without love we might as well be singing off-key in the shower.
Without love, the best of our doing is just noise.
Like I said, this just doesn't go down easy. Whatever it is that I can do for God, I am just going through the motions if love isn't at the heart of it.
If I don't love, I've gotten nowhere and my best work is nothing more than rubble at my feet. Oh, this is a hard thing.
"No matter what I say, what I believe, and what I do, I'm bankrupt without love" (The Messgage).
So how do we live out love God's way?
God's definition of love.
1 Corinthians 13:4-9 is a well-known Bible passage on love. In reality, it is a powerful description and definition of Christian love. How do we put the attributes of God's love, agape, into practice in our relationships? Truth is, this is easier said than done.
You can read 1 Corinthians 13 in three versions when you click this link. Reading a variety of translations can help us go deeper into a passage. Three versions I like to read together are NASB, The Message, and The Amplified Bible. As you read, you'll see what I mean about the challenge of loving others God's way.
More challenging words from 1 Corinthians 13, God's love manifesto:
Love never gives up.
Love cares more for others than for self.
Ouch.
Love doesn't want what it doesn't have.
Love doesn't strut,
Doesn't have a swelled head,
Doesn't force itself on others,
Oh dear.
Love…
Isn't always "me first,"
Doesn't fly off the handle,
Can we stop now?
Love…
Doesn't keep score of the sins of others,
Doesn't revel when others grovel,
Takes pleasure in the flowering of truth,
Puts up with anything…
Really?!
Love…
Trusts God always,
Always looks for the best,
Never looks back,
But keeps going to the end.
Last time I checked, my love didn't quite look like this. Overwhelmed, I want to give up and stay in bed, throwing the covers over my head. I feel discouraged when despite my good intentions, my selfishness barges in, and I blow it…again. My heart is willing and wanting to love others with the purity of agape, the Greek word for perfect love. When I rely on my own, limited and often self-focused ability to love, the outcome falls short. 
This is when I need to remember what true love is.
These famous words are a description of God's complete love. This is the love He has for each one of us, whether or not we love Him back…or even believe He exists.
"For God so loved the world, that He gave His only begotten Son, that whoever believes in Him shall not perish, but have eternal life" (John 3:16 NASB).
Same word, same love in both of these passages (agape), and it is gift wrapped with our name on it.
If this is God's love defined for us, the way He loves us, then is also a picture of how His love can work in and through us.
When I bang my head against the wall of my sin, I must remember that I can't produce this kind of love by myself.
It is not in me.
I can't just reach deeper in my pocket and pull it out of a heart gone wild with self.
I won't find this kind of love sitting on the shelf in the grocery store.
I can't borrow it from a neighbor like a cup of sugar.
I can't fake it.
I can't dress it up and pretend.
God isn't fooled, and He sees right through all of this effort.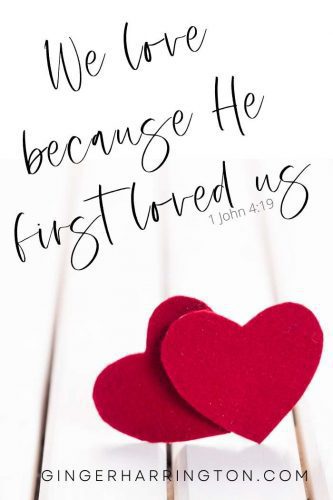 This kind of love is only found in one place of hope:
"….and hope does not disappoint, because the love of God has been poured out within our hearts through the Holy Spirit, who was given to us" (John 13:34).
Here's the truth of it:
We love
BECAUSE
He first
Loved us.
(1 John 4:19)
So when it's hard to love others with this complete God-love, I come back to this:
" …God is love…" (1 John 4:16).
And the best part is, He's willing to share. He is willing to dwell within our hearts, growing love from the inside to the outside. Blossoming forth from motivation to action, Christ  expresses Himself as love.
So here's my prayer for you and for me:
that He would grant you, according to the riches of His glory,
to be strengthened with power through His Spirit in the inner man,
so that Christ may dwell in your hearts through faith;
 and that you, being rooted and grounded in love… 
Ephesians 3:16-17
This Valentine's Day, receive the love that fills up and overflows. Then turn around and give what you've got–true love that never fails.
How are you showing love this Valentine's Day?
My Valentine's Day gift for you!
Add a little love to your life with these quotes and verses to share. Loving God and loving others is what we are made for. Print out these quotes for inspiration, crafts, gifts, and more. You'll find the printable PDF with all of these quotes in my Subscriber Library. Click the image below or click this link to sign up. You'll get a welcome letter with the link for my latest freebies and access to the Library.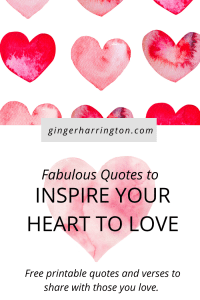 Leave a comment and share your ideas. Let's help each other show love to others in a tangible way!
Share a little love by sharing this post on Facebook, Pinterest, or Twitter today.