My face flushed with shame. "I can't sit across the table and pretend this never happened," a friend recently admitted.
I have hurt a valued friend. I never intended to alienate my friend, but now there is misunderstanding and resentment where friendship used to be. It is partially my fault. I have neglected their concerns, presuming everything is okay beneath pleasant smiles that mask resentments hiding in silence.
The problem is silent no longer and the discord opens a thin, hurting place in my heart. Guilt leans over my shoulder, whispering, "Who do you think you are? You have no business, no right, to write about loving others."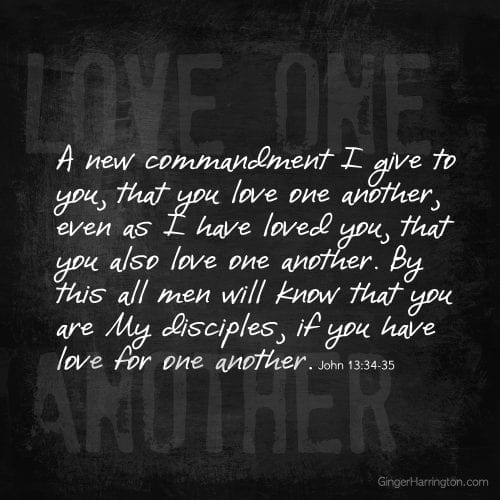 I read this verse and squirm at the times I've blown it. I begin to tap out words about love on this keyboard and feel a bit like a child playing dress up.
I cannot write these words from a perspective of giving advice, for loving others has hard moments and I fail frequently.
Jesus could have talked about many things on this last evening with the disciples. They could have spent the time reminiscing the many stories they had lived together. He could have explained in great detail what was about to happen. He could have reviewed three years of teaching.
But last moments are for the heart and Christ leaves his disciples with one last, powerful lesson on love.
Moments before, He has washed the feet of his students, turning social norms upside down. With the power of example, Christ shows his friends the importance of serving one another with humility.
[tweetthis]Heart trumps position in God's economy.[/tweetthis]
A new commandment–from the position of a servant, hands wet with the dirty water, Jesus opens a fresh perspective on a familiar topic. A commandment is not an option, suggestion, or choice. These are words to be obeyed. Words to be lived.
Why does Jesus close out his time on earth, his last peaceful moments of friendship, emphasizing the importance of loving one another? These are  the last moments before the world will rise against him with the harsh words chanted by frenzied crowds, "Crucify him, crucify him!"
When we dig beneath the soil of our ambitions, our greatest need and our deepest struggle is to love and be loved. "Love me," is the cry of every heart. "Am I loved? Am I loveable? Am I worth loving?" is the question that hides in every motivation, desire, and conflict.
Why this lesson on love?
Because love is hard and love is necessary. Like oxygen, we can't live without it.
Because love is where life is lived, salvation worked out, and victory won.
Because loving God and loving one another is the one foundation we cannot do without.
Without love, obedience hardens into legalism, performance, and religiosity. Without love, service is meaningless, teaching becomes noise, and faith misses the point.
[tweetthis hidden_hashtags="#loveoneanother"]Without love we are bankrupt souls and our greatest work turns to dust in the light of eternity. [/tweetthis]
Really, what else is there to talk about?
A picture of God's heart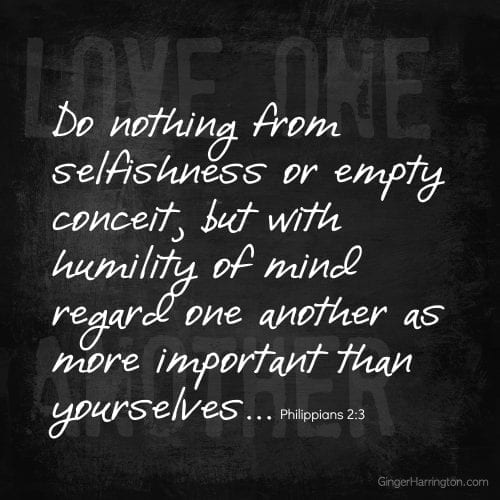 Through Christ, God shows us the core of his heart and what is most important to him.
When it comes to loving others, we teeter between not loving others well or loving them over and above loving God. Either way, we stumble with unsteady steps.
This side of heaven we are going to struggle to love God and love one another.
"He who began a good work in you will perfect it until the day of Christ Jesus." Philippians 1:6
Maybe you are ready to wring your hands and shake your head in discouragement thinking, "it's going to take a lifetime to learn to love God's way."
[tweetthis]What happens when we accept the fact that we cannot love and live God's way on our own?[/tweetthis] Look at it from a different perspective–he is never done, never gives up on us. God will keep working in us and throughout our lives He will teach and train, convict and comfort, convince and empower us to keep growing step by step and day by day.
God loves with no limits or quotas. Every single day we have a fresh opportunity to lay aside the un-love-liness of our flesh, our do-it-myself-please-myself striving to feel loved and get our way.
How often have we tried to live as Christ's disciple, trying to love others better?
Trying to do the right thing.
Trying to love God and do all the doing.
The try-hard life  depends on our own resources. We cannot simply improve our behavior and do better, for matters of the heart will not be constrained to human effort.
Before we can love one another, we must begin with these  words…
…even as I have loved you.
As I remember my own struggles to love and be loved, it is easy to forget love begins with God.  It is only in the context of God's love that my love has any hope of being real and true.
We love, because He first loved us.
This is the third post in a series on John 13. You can read the first two posts here:
Five Powerful Truths About Discipleship to Embrace Today