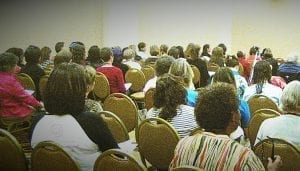 Nervous, I stepped into a room of four hundred new faces. "Do you really want to be here," My Inner Wimp whispered. I scrunched my eyebrows together, certain that I had not packed this unwanted guest. She continued, "You don't belong in here. These are the professionals, and you, my dear, are just a volunteer." My Inner Wimp can be rather nasty if I let her get a word in.
Have you ever felt the disdain of that phrase, just a volunteer? In today's hard-driven, everyone-seems-successful world, the word volunteer doesn't have much clout or glitz. Service isn't glamorous, and it often doesn't pay the bills.
Just a volunteer?
Yet it has been in serving that I have discovered and developed gifts and skills that lay buried under the surface. It has been through volunteering my time as a Bible teacher and Women's ministry leader that has been God's way of revealing my calling. Serving others, encouraging with a Biblical message, showing other's how–this is ministry and it is true joy.
Just a volunteer? I don't think so. There…I put My Inner Wimp in her place, determined to make the most of a new experience.
I found a seat and carefully placed my bag filled with my hopes and dreams under the seat in front of me. So many writers. So many talented people with a God-given story to tell. Such a competitive business. My Inner Wimp tried her best to convince me to give up, with thoughts like, "No one cares what you have to say."
I stuck it out and had a blast, learning new information and meeting interesting people. The new friend in this picture is Alycia Morales.
By the way, My Inner Wimp had to find her own way home. (I was hoping she'd get lost…)
Fast forward a very quick year:
I am busy getting ready to return Blue Ridge Mountain Christian Writer's Conference. Just a few more days, so I am feeling the excitement–and the pinch–of wanting to get all my ideas and pitches ready to go. Once again, I will enter that crowded room filled with writers, hopefuls, agents, editors, and publishers. Once again, I will have some dreams tucked into my briefcase. I will pitch my book to agents and editors, nervous that I will sound like…just a volunteer. This year, My Inner Wimp is going to be locked in the basement with no chance of sneaking into my suitcase.
What accusations does your Inner Wimp say?
If you have ever felt like just a volunteer, Like this post and pass it on.
Enjoy this related post: 3 Steps for Getting Rid of My Inner Wimp