Blessing #5–The Give Aways
Conference sponsors filled our Sway Bags to overflowing with books and goodies! Yippee!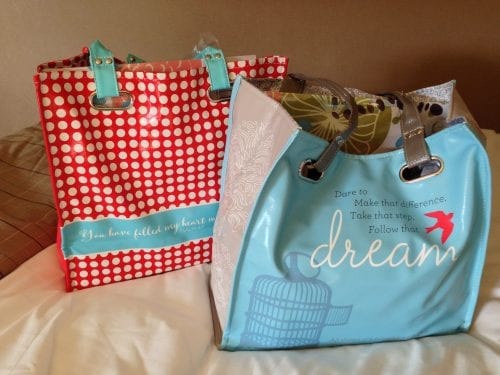 Blessing #6–Meeting with a Literary Agent
I had an unexpected opportunity to have an appointment with a literary agent that went well. God also sat an editor from Zondervan beside me for two meals, and it was fun to get to chat with her.
Blessing #7–Winning a Prize
This girl who never wins anything when it comes to raffles and such had a big day. I won a trip to Birmingham, Alabama for the premier of Mom's Night Out! So excited!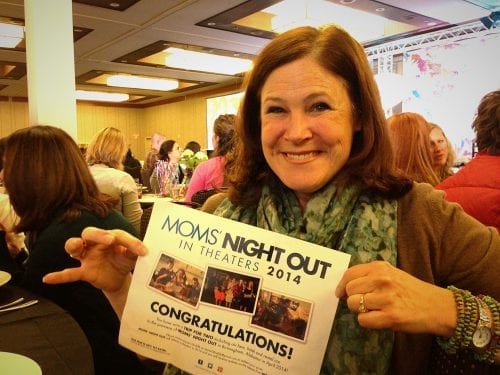 Blessing #8 — A Creative Night of Worship
A great evening of worship that included the opportunity to be creative. Ashley shows her worship painting–expressing worship through creativity. Love it!
Prophetic painting: there were several painters that created images in response to visions by the Holy Spirit. Each painting reflected a specific idea. I have never seen this before, but it was cool to watch. One of my roommates, Amy J. Bennett, received one of the paintings. God really ministered to her through this. You can read her story here.
Blessing #9 –Remembering College Days at Furman University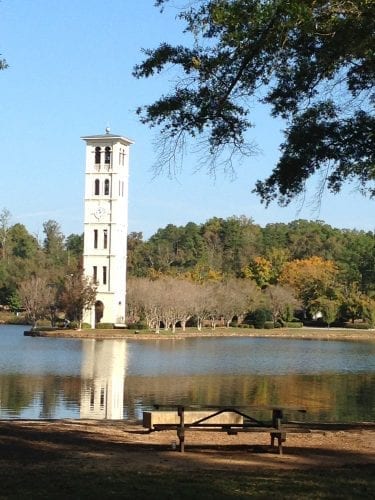 It has been years since I walked the gorgeous campus at Furman. I enjoyed remembering sweet memories of days gone by. How amazing to think of the many things about my life that I never dreamed I would experience. So blessed.
Blessing #10–Visiting a College Roommate on the Way Home
Since I don't get to South Carolina by myself very often, this was a great time to visit special friends. When you're a military gal frequently moving away from friends, it is a special treat to spend time with friends you have history with. Bonnie Brunt is a talented cake decorator. If you need a wedding cake in South Carolina-she is the best! Several years ago Bonnie and her husband  helped me get my blog going, designing the masthead and helping me get started. So grateful!
.
In so many ways, I am thankful for God's blessings that have been showered on me. Even more, I am bone-deep grateful to have a God who is the giver of such grace.
Every good thing given and every perfect gift is from above, coming down from the Father of lights, with whom there is no variation or shifting shadow. –James 1:17