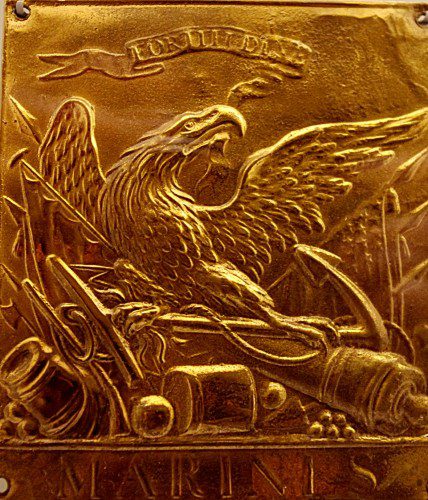 I waited in Harold and Kathy's Diner for my friend to arrive. Finding a table in the small, but crowded dining area, I sat and looked around. I was surrounded by your average American, diner-eating crowd–a few workers, several retired couples, a few twenty-somethings, some suits, and a couple of moms. Every-day folks who enjoy the freedom that the hard-working men and women in our military provide.
The diner is located just a stone's throw from Quantico, which is a base often referred to as the crossroads of the Marine Corps. There were also several military folks eating, both active duty and retired. I noticed that the military folks wear honor like a garment.
My friend, Leann Salas, arrived shortly. Leann and I were neighbors in Okinawa, Japan, and I am excited to continue our friendship. As part of honoring Veteran's Day, I was interested to hear about Leann's new job.
Leann is working at the  call center for the Wounded Warrior Regiment of the Marine Corps. I was anxious to hear what her job entailed and how it was going. The Wounded Warrior Call Center, provides a variety of support to wounded, ill, or injured Marines. The center is dedicated to Sergeant Merlin German, who was severely burned in 2005, due to a roadside blast in Iraq. (The linked article is an inspiring read.)
The extent of his injuries gave little hope for survival, yet this young man came to be known as the "Miracle Man," not only facing his own challenges, but also encouraging fellow wounded warriors. Reaching beyond his own painful injuries, German established, "Merlin's Miracles," a foundation supporting burned children and their families. Merlin passed away on April 11, 2008, due to complications from surgery.
His legacy of concern, support, and encouragement lives on through the Wounded Warrior Call Center.
A chat with my friend.
"So what do you do?" I asked my friend.
Leann answered, "I make outreach calls to the wounded or ill active duty Marines, who are transitioning out of the Marine Corps. Once a Marine is no longer fit for duty they undergo a challenging transition. The call center provides  support for a variety issues including benefits, administration, insurance, employment, education, Post Traumatic Stress Disorder (PTSD)."
Although Leann has found it challenging emotionally, the reward of helping Marines transition out of the Marine Corps is a very special job.
Leann reviews cases, becoming familiar with each Marine's story,  and calls to see how things are going, to find out what they need. Providing a caring ear, answers for issues, and support in making the transition, she helps connect needs and questions with help and answers. She helps these brave souls navigate the difficult landscape of making the change to life after the Corps. She tells me, "Part of what I do is follow up and try to make sure they are getting the treatment and help that is available, both for the Marine and the caregivers."
"What seems to be the most challenging injuries for Marines to work through?" I asked.
Leann answered, "Those that have active support from family and friends make the transitions a little easier. Amputees seem to overcome challenges with less difficulty  than those with invisible injuries, such as extreme PTSD or Traumatic Brain Injuries (TBI). Cognitive and emotional injuries bring many challenges, particularly with effects of medication and struggles with depression. Regardless of the type of injury, family support is a key factor in making a the transition."
As we wind down our conversation, I was inspired as Leann stated that at the Wounded Warrior Call Center we want Marines to know we are here. "We care. We hear. No one is forgetting their sacrifice."
 
Even though Veteran's Day was earlier this week, let's continue to take time to appreciate the brave men and women who have served our nation in the military.
My young friend, Corinne Lennard, a freshman in college, tells of her thoughts on wounded warriors and Veteran's Day…
"Even though I've been around the military my entire life this was actually the first time that I saw a wounded warrior in person. He was so young, probably only a couple years older than me. When he joined the military, I'm sure he knew some of the sacrifices he might make, but yet he still put it all on the line….On that hot summer day, as this young man who was missing both of his legs was taken into the hospital, I realized what great sacrifices these men and women make for our freedom. It is more than the long work hours or the many months spent away from home, we celebrate Veterans Day because without these brave men and women, we could loose our freedom. They put the well-being of strangers ahead of themselves and they make incredible sacrifices for our nation…Without them, we wouldn't have freedom because freedom isn't free. So thank you!"
Feel free to leave a comment of thanks or a prayer for our veterans, particularly those who have been wounded and injured..