I have developed a new talent. Well, actually talent isn't quite the right word. Just to be clear, this is a trait that I seem to have honed to quite a skill.
Let me show you a peek at my new artwork.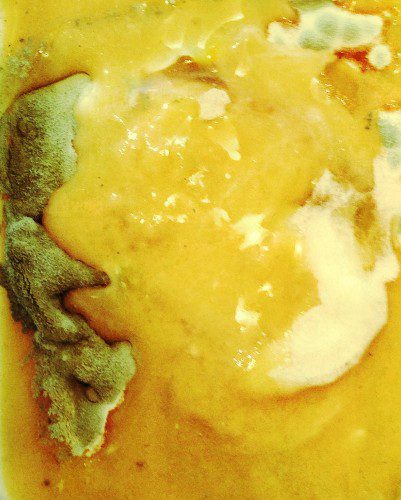 This lovely picture is not paint…can we just leave it at that?
Well, maybe I should back up a bit. Step out with me to the garage, home of the…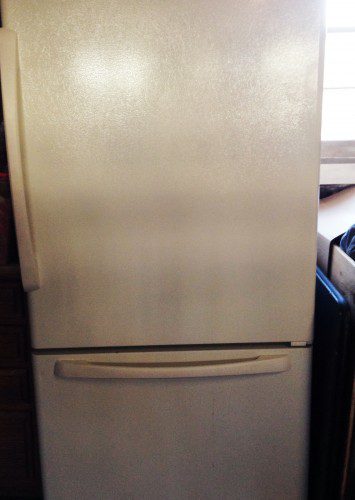 EXTRA FRIDGE…or icebox as I used to call it until my husband finally broke me of the inherited, outdated term. (Just in case you're wondering, I still use the word pocketbook…)
I would have put this in my Kitchen Battle series, but this is clearly a garage issue.
Yes, today, I decided to tackle a job I have been putting off…
For a long time.
Apparently a very long time.
So now you you're getting a clearer picture, so to speak, of said art. Whatever it was, it is a piece of work. Not sure exactly what this used to be…yes it is that far gone. I think this may have, at one time, been the last of a chicken dish that no one really liked. Or possibly it could be part of last year's science fair project. You know how kids are bad about leaving stuff laying around…
So anyway, I opened this container. Oh mercy.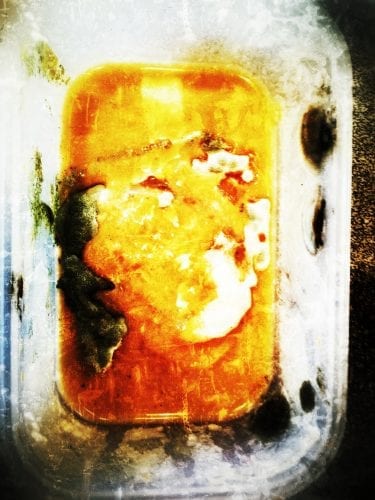 I decided I needed a little gear, as I nearly passed out from the smell.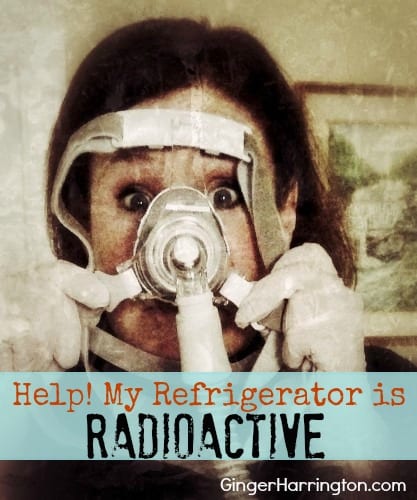 Just so you know, the Hubb's sleep machine is a multi-purpose piece of gear. You can put that on Pinterest if you like–just the sort of Go-To Tips that make life worth living in the Pin-o-sphere.
Armed and ready, I returned to the disaster zone, or scene of the crime (depending on what kind of house-keeper you are),  and got to work.
Once the first specimen was taken care of with hot water and a mighty whirl of the disposal, I decided I might as well do all of them. Really, procrastination is one thing, but even I have a limit.
Staring procrastination in the face.
Eventually even us reluctant house divas must say enough's enough! Let's just say this was not exactly a Proverbs 31 Woman moment.
If you have an out-of-the-way fridge, you can save this task as a rainy-day activity when the kids are good and bored. Just take away all electronics for a few hours and your children will be so stir crazy that they will do anything for a little entertainment.
In fact, when I was growing up, my brother and I sometimes played a little game called, Find the Oldest Date in the Freezer. My mom, having a full size extra freezer in the basement, had taken this skill to a much higher level. Our biggest find was pork chops from 1974.
Quite possibly, this talent could be genetic.
When it comes to things our mother's do, have you ever said, "I'll NEVER do that?" Well, let me tell you, it is just best not to say that…
Here's a look at another treasure I found.
Can I just say this…not proud.
A gentle reminder here, this is not a petrie dish. Not sure, but this just might be radioactive. But at least I can identify what this was before the unfortunate attack of the mold–cranberry relish made last Thanksgiving.
The recipe stated that the relish would keep for a long time in the fridge, but I guess that 3-4 months is pushing it. Better make a note on the recipe–use by Christmas.
And then there was the chilli.
The last dish that I did away with was far more recent. Just a few weeks old. In fact it still looked quite tasty…until I lifted the lid of the tupperware. Unfortunately, I cannot show you this, because digital technology has not yet developed a scratch and sniff app.
Let's just say that white bean chill, as good as it is when it is fresh, smells MUCH worse that petrified cranberries.
Really.
And that's all I'm going to say about that.
So what's your refrigerator look like?