Though we celebrate Thanksgiving as a holiday, filled with feasting, family, and friends, giving thanks is an everyday grace for bringing the sacred into any moment.
Do you believe gratitude is a worthy goal? One that can make a true difference in your life?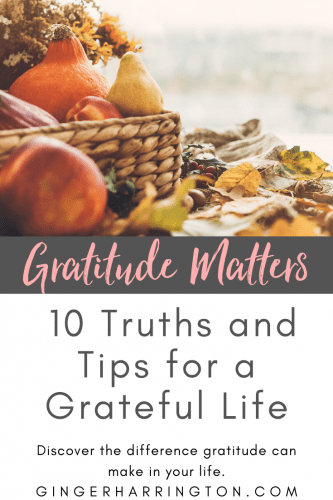 On the spiritual side, gratefulness is more than an attitude. It's can also become holy habit that draws us closer to God, strengthens faith, and brings freedom from worry. 
That's worth fighting for, isn't it?
Truths about gratitude that make a powerful difference in your life.
Gratitude matters. It makes a difference every single day. Embrace these truths for a grateful life. 
Gratitude is an everyday grace.
Gratitude is a choice.
 How do we love God more than the things that bring us the most delight and pleasure in life? When we remember that every good gift is from our Father, let the gift draw your attention and gratitude to God.
Let your gifts and blessings become windows to see God's heart for you. Gratitude is inseparable from love. Count your blessings each day, whether mentally or on paper.
Gratitude is a gift. 
Gratitude opens the door to peace.
On our best days and even on our worst, thankfulness matters. An integral part of prayer, giving thanks opens the door to experiencing God's peace.
Don't worry about anything; instead, pray about everything. Tell God what you need, and thank him for all he has done. Then you will experience God's peace, which exceeds anything we can understand. His peace will guard your hearts and minds as you live in Christ Jesus. Philippians 4:6-7 NLT
No matter the need or the request, let's learn the holy habit of saturating our prayers with thanksgiving!
Gratitude is the foundation of joy.
Gratitude, contentment, and joy are some of life's sweetest blessings. Where we find one, we often experience the others as well. A grateful life is also a joyful life. What fills you with joy today?
5 Tips for a grateful life.
Building holy habits and making grateful moments doesn't just happen. It takes intention and practice. When is the last time you started your day in a good mood and all it took was one thing going wrong to plummet your good vibes to negative thinking? 
Thank God for who He is, not only for what He gives.
Let every gift, each blessing, large or small, become a reminder of the magnificence of God. Stretch your heart to look beyond the gift to the wonder of the Giver.
When our gratitude is dependent on the gift, we develop a consumer mindset toward God. In A Godward Life, John Piper writes, "God is not glorified if the foundation of our gratitude is the worth of the gift and not the excellence of the Giver."(214)
Enter God's presence with gratitude.
Thank God for something specific every time you enter into his presence through prayer. We need to be specific when giving thanks – this keeps us focused and personalizes it. King David, writer of many psalms instructs us that thankfulness is the appropriate attire of the heart.
"Enter His gates with thanksgiving And His courts with praise. Give thanks to Him, bless His name."
Challenge yourself to give thanks in every circumstance.
It takes sometimes painful faith to look for something to thank God for in the midst of hard times. We may not be thankful FOR everything that happens, but we can, at the least, be thankful for God's promises that apply even IN on our most difficult days.
Be joyful always; pray continually; give thanks in all circumstances, for this is God's will for you in Christ Jesus. 1 Thessalonians 5:16-18 (NIV)
Write down what you are thankful for as part of your daily Quiet Time.
If we really look for something everyday to be thankful for, we will find it. This will create a habit of thanksgiving with the end result being contentment. Gratitude and contentment are the foundation of joy. If you keep a journal or Quite Time notebook, keep an ongoing gratitude list.
Express gratitude by giving to others.
Because God has loved us, we can freely love others. In Christ, we are full and complete, so we have grace and mercy to extend to others. God has forgiven us, so we can forgive others. Forgiving someone releases us from the burden of resentment and anger.
The sacred habit of gratitude is one way the Holy Spirit works in our lives to teach us how to live God's way. Holiness on the inside, changes the way we live, making a practical difference in our days.
"Therefore as you have received Christ Jesus the Lord, so walk in Him, having been firmly rooted and now being built up in Him and established in your faith, just as you were instructed, and overflowing with gratitude" (Colossians 2:6-7 NASB).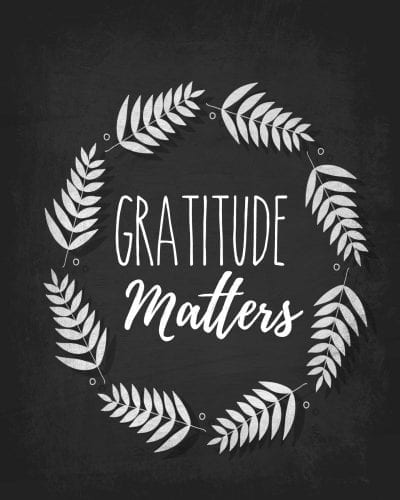 More posts on gratitude and thanksgiving:
Thanksgiving is More than a Holiday
Preparing for Thanksgiving from My House to Yours