Today I want to introduce you to a friend of mine, Carrie Daws. Carrie and I both attend the Bible study for military gals at our local base chapel.
Over the years, God rewrote Carrie's dreams to include being a stay-at-home mom and a writer. She started by writing weekly devotions online before a mentor at the Christian Writer's Guild encouraged her to try fiction.
After almost ten years in the military, Carrie's husband medically retired and they now live in Virginia with their three children. Besides writing novels, she stays busy home schooling, keeping up with her extended family and friends, and volunteering within military ministries.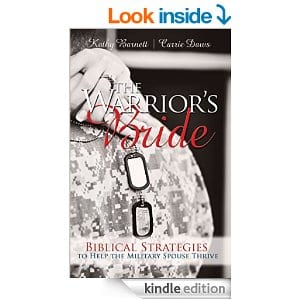 I got a chance to chat with Carrie about her latest book just as we were getting ready to launch a new ministry for military women, Planting Roots: Strength to Thrive in Military Life. You can see why I was interested in this book! Isn't is amazing how God puts things together?
I asked Carrie what prompted her to write this book.
"One of the greatest frustrations about being married to a military man is knowing that you cannot plan your own life. Your husband, and thus your marriage, is owned by the United States Government, and you are forced to accept the plans for the greater good over your own."
This short passage comes from the Introduction to The Warrior's Bride: Biblical Strategies to Help the Military Spouse Thrive, and it summarizes the biggest frustration of many military spouses. And yet this commitment to the greater good is also the source of one of the military spouse's greatest prides too.
It's a delicate balance, one Kathy and I struggled with for years before understanding it. One we still struggle with from time-to-time. And it's one we watch every military marriage fight through: who is really in control?
And that's why we wrote Warrior's Bride. Because we learned too many lessons the hard way, and we want to save some marriages the grief we had to work through because our hearts and minds were stubborn. Because we learned too many lessons too slowly, and we want military brides to learn from our mistakes and emulate our wise choices.
We've sacrificed our husband's presence at birthdays and anniversaries. We've done our best to photograph and video tape our children's performances that he missed due to training, odd work hours, and deployments. We've dealt with broken plumbing, missing debit cards, and moves alone.
And we've sat at home wondering if he wanted to come home at all. 
Much about the military world isn't talked about openly, but Kathy and I confront it head-on in Warrior's Bride. Things like open pornography in the workplace, infidelity within the marriage, fears of him dying on the battlefield, and the reality of when he comes home different.
If this describes your world then know you are not alone. In fact, more than that, the truth is that God wants you to find hope and joy in your marriage. He wants you to do more than survive your husband's enlistment; He wants you to thrive in your calling as that man's wife.
Kathy and I do not want you to think that we have all the answers, but we have discovered secrets to finding joy in our trials. We have learned to not only love our own men, but to love the calling of those men. And we have learned to love our calling as military wives.
Join us within the pages of The Warrior's Bride and let us encourage you.
About the Book:
The Warrior's Bride: Biblical Strategies to Help the Military Spouse Thrive
The call came down from Command, and your warrior husband is out the door, leaving you behind to handle whatever he has left undone. Whether it's the day-to-day monotony, the inevitable appliance that breaks, or the months without his presence beside you, being a military spouse brings challenges few appreciate. Yet God sees you and longs for you to boldly step into His plan. He purposely chose you for this moment—for your man. He wants to give you abundantly more than what you have right now and desires you to thrive as your warrior's bride.
Warrior's Bride is a must read! While Carrie and Kathy have not sugar-coated the many challenges of military life, they have generously shared the hope they have found and the road map for thriving! ~Kathleen Dees, wife of Major General (Army Retired) Robert F. Dees
 I found your life stories and growth in your understanding and commitment to God's purpose in marriage to be inspiring and insightful! Your testimonies will encourage many military spouses! ~Paula Van Antwerp, wife of Lieutenant General (Army Retired) R.L. Van Antwerp
In addition to The Warrior's Bride, Carrie has also published several novels. You can find out more about her books here.
Join me in saying a big thank you to Carrie for sharing with us today!