Ladyboss Blogger's  Grow Christian Blog Course is impressively comprehensive, packed with information, instructions, ideas, recommendations, and templates on every aspect of blogging. Wowza, I wish I had known this information the first few years of blogging! I'm excited to up-level my blog with what I've learned. I don't write a lot of reviews, but I love to share great resources.
These days you can find an online course for practically any subject under the sun. After 2020, online courses have exploded. Scrolling through social media, it only takes a moment to find an ad for the latest opportunity to grow skills. Inundated with ads, It can be hard to decide whether or not to take a course. Then there is the issue of which one's are worth the investment.
Content Creators Need to Continually Learn New Skills
In the social media and blogging arena, trends are continually changing. The expectation of publishers to have a strong online platform increases every year. New technology adds to the need for content creators to continue to learn and grow. It can feel overwhelming to decide which courses to invest time and money.
I've recently completed a couple of blogging courses as part of a major website update earlier this year. I committed to make the most of my investment in a new website by making time to learn the skills to take my  blog to the next level. I wanted to grow in both foundational and advanced skills in this ever-changing field of online content creation. I've come a long way since I began blogging in 2009, but there is always new information to learn.
If you promise not to laugh too hard, I'll share this with you. When I started blogging I didn't even know how to email a photo. Seriously–you promised not to laugh!
Even the most basic aspects of working with a website were a slow learn. My brain seemed to scramble, making the technology curve a challenge. I'll forever be grateful to friends who took time to teach me the basics. In fact, my college roommate built and designed my first website. I was terrified I was going to do something to break it and make the site crash! I wish I'd had access to LadyBoss Blogger's courses from the beginning.
Grow Christian Blog is an Easy-to-Use Course
Being a bit of a techno-phobe (is that a real word? Not sure.), the first thing I loved about the course is Elaine Rau's ability to present information in an easy-to-understand manner. Not once did I feel lost when lessons covered more technical aspects of blogging. In my book, that's a huge win!
The LadyBoss Grow Christian Blog course features is impressively comprehensive, packed with information, instructions, ideas, recommendations, and templates on every aspect of blogging. Wowza, I wish I had known this information the first few years of blogging!
What a benefit to fast-track by having so much information in one place. Designed to equip Christian bloggers to grow. this blogging course is developed by, Elaine  Rau. With God at the center of the course, Elaine addresses mindset and purpose before diving into technical content. She has a pretty amazing story if you want to read it here.
Featured on Forbes, the Huffington Post, Thrive Global, and 500+ media sites, Elaine shares that her mission is to "help Christian bloggers and influencers market and monetize their content so we can start to see more uplifting Christian content in the media. God gave you a voice, use it for His glory."
A Quality Course for Christian Bloggers
I loved the breakdown of how to focus your time on the many aspects of successful blogging. Organization and time management are areas of blogging that I have struggled with over the years. I was surprised that content creation, the actual blogging, is only 10%. That is probably what I've been doing, but for years, I've felt like I was somehow failing or not doing enough that I wasn't able to spend more time writing.
Pshew! Goodbye to guilt and hello to a more realistic plan/expectation to use my time wisely in sharing the messages God gives me to write!
The Foundations section gives a realistic and simple overview to plan, produce, and manage your time and effort. This comprehensive view ties all the tasks together with purpose, which I found very helpful: purpose 10%, content 10 %, income 20%, strategy 20%, email 20%, and traffic 20%. Understanding the valuable and needed role of each component helps me make the best use of my time. The modules on editorial calendars and writing  for SEO are making a big difference in my traffic and the growth of my email list! Tangible results make investing  in education well worth the effort!
Ready, Set, Grow!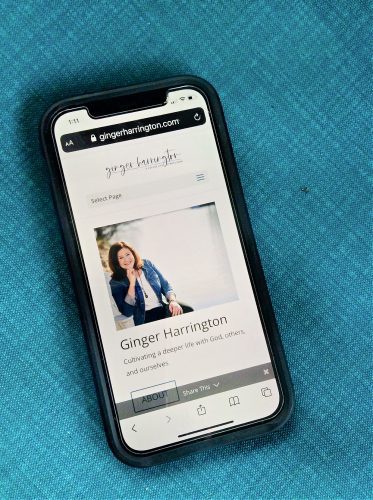 LadyBoss Blogger teaches students how to avoid or fix common mistakes bloggers make. Oops…been doing a couple of those, but I've got them fixed now. That feels like a major accomplishment. Overcoming issues makes implementing new skills far more productive.
The lessons I found most helpful covered how to maximize the power of email in growing my blog. Three modules covering different aspects of email included traffic, set up, strategy, opt-ins, landing pages, and crafting effective email series. So helpful! One thing I particularly appreciate is how often Elaine includes screen shots and clear how-to instructions. For the non-techie crowd (like me), good instructions, examples, and templates make this course well worth the investment.
The two modules on Pinterest were also extremely helpful. Traffic, creation, optimization, rich pins, ranking, algorithms, design, video/story pins, are some of the Pinterest topics covered in the course. Again, lots of examples and ideas make moving from information to application a breeze. Rau shares the power of Tailwind for automation and growth for your pin account.  There's even viral pin templates to load into Canva to make creating effective pins a breeze. I use Canva and Tailwind nearly every day, so I'm glad she included these powerful tools in the course.
The final modules of the course offer an overview of monetization and bonus lists, links, and templates. The monetization is enough to get you started, but Rau offers more extensive learning in three additional monetization courses including Make Money Blogging, Make Money as an Influencer, and Monetize Your Blog and Instagram. 
I'm excited to take my blog to the next level with all that I've learned from the Grow Christian Blog course! I haven't had time to apply everything I've learned yet, but I'm thrilled to see my traffic and email list growing significantly with just the changes I've made thus far. Here's a screen shot of my google analytics showing  growth in the since I started the course.
This course is well worth the investment if you are going to apply all the great content Elaine teaches. I'm not saying this course includes everything you will every need to know for a successful blog, but it covers a ton of things that will help your blog grow. If you're just getting started, the Launch Christian Blog is the course to get you going.
At the end of the day, the greatest content in the world will not make an impact if you don't apply what we learn. I'm scheduling time on my calendar to continue to apply what I've learned.
I look forward to learning more from LadyBossBlogger!
Get a Discount on Grow Christian Blog Course
The Grow Christian Blog course is $197. If you're interested in checking out  Grow Christian Blog, enjoy a 20% discount when you use this promo code at check out: 238290_qnre2les! That brings the price down to $157 when you use my affiliate link and promo code.
Have you taken a great blogging course? Who have you learned from lately? Leave a comment and ask a question or share a resources. I love to hear from you!
*This post includes affiliate links at no cost to you. This means I earn a commission on any sales at no cost to you. I received access to this course free of charge in exchange for my honest review.