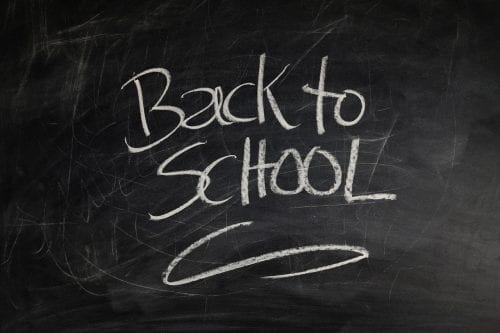 Here we are the last of summer days have frittered away and it is time for the BACK TO SCHOOL transition. In my family, there are three different kids and three distinctly different perspectives.
College Boy
… is happily ensconced in his new man-cub cave along with a new roommate and four other great guys. Let me just give a huge shout out to God's goodness here–I am one happy Mamma Bear as God has abundantly answered prayers with a suite full of fun, active young men who love God to live alongside my Man-Cub. Some prayers take time, and though this prayer was not answered for his freshman year, he will appreciate the blessing all the more as God has dumped a suite full of answers right in his lap. Sometimes, you just have to…"wait…for…it!" That is good advice for lots of things, not just those who impatiently wait for computers to respond.
Last night we got our first update phone call on how things are going. Determined not to be a helicopter parent, I waited for College Boy to call. Sophomore year is off to a good start, with many comments that "____ is so much better than last year…" Does my heart good to here his excitement about all of the new possibilities the fall brings.
 What a difference a year makes!
Back to school time can be a strange mix of nerves and excitement, dread and delight as the unknown of a new school year dawns. I still have two girls at home–Senior Girl and Freshman Girl. So there are two different strains of emotion pulsing through my household.
Senior Girl
… is already looking ahead, sending off college applications and worrying about what to major in (yes, unlike her mama, she is a planner). She has her parking pass registered early for a coveted primo spot, perfect for a quick get-away as soon as the bell rings. Little Sister better sprint if she wants a ride! The theme to Senior Girl's plans for the fall have to do with how soon can I be done, how short can I get my schedule…ie she is feeling ready to move on past the confines of high school mentality. (Little does she know that around March she will hit a phase of not wanting High School to end as the reality of graduation peeks over her shoulder.) She approaches this school year with confidence, no longer weighed down by the trepidations of being New Girl Again like last year.
 What a difference a year makes!
Freshman Girl
…is busy with volleyball practice and finishing up her summer reading projects for honors English. Happy to have teammates and already be a part of something, her thoughts dwell on, "How much homework will high school involve?" Reticent and unsure of what this next level of school will bring, her feelings weigh a little more heavily on the nervous side. This week will see the last of the back to school shopping, in search of that all-important first day of school look. Unlike last year when she was a New Girl too, she will start high school alongside teammates and friends from last year. Though the school is huge, she will see familiar faces in the halls and more than likely know a couple of folks in some of her classes. She also enters the year with the camaraderie of Senior Girl to answer questions and fill in what to expect.
What a difference a year makes.
For those of you who read this blog regularly, (Yay! I am so thankful for you!) you are well aware the transitional struggles and stresses our family went through last year as we moved from Okinawa, Japan to Northern Virginia, home of the high-stress, fast-pace, long commute way of life. God has faithfully brought each one of us through the challenges of transition and it is a relief to begin this school year on now-familiar territory. I approach this year, enjoying the fruit of the foundation that prayer laid last year. As I look back through thirteen back to school transitions, I see the how many stages, difficult teachers, awkward looks, challenging attitudes we have prayed through.
Faithful God
Through all of the unknowns, all of the questions, God has been faithful– faithful to prompt us to pray and faithful to build a strong foundation for faith and life in each one of our children. These things are so, not because we have perfect kids, a perfect life, or perfect prayers.
We blossom with good fruit from our prayers because we have a perfect God who delights to show us…what a difference a year makes!
For  the Lord is good; His lovingkindness is everlasting And His  faithfulness to all generations. Psalm 100:5
How have you seen God's faithfulness in your life lately?