In these topsy-turvey times, the ones that barged in with little warning and tilted the world off center, we need to hold fast to the strength of God's Word. Do you need encouragement to overcome fear with God's power during the coronavirus?
I wrote this post before the terms pandemic, COVID-19 or Coronavirus were part of my daily vocabulary. Today as I ponder what to write, God shows me these words are deeply appropriate for this time of  world-wide fear.
When we feel weak, housebound, or fearful these are sacred moments to trust God on a deeper level. They are also times we long to hear God's words and embrace His promises.
The Power of God's Word in Our Times of Distress
But he said to me, "My grace is sufficient for you, for my power is made perfect in weakness." Therefore I will boast all the more gladly of my weaknesses, so that the power of Christ may rest upon me. For the sake of Christ, then, I am content with weaknesses, insults, hardships, persecutions, and calamities. For when I am weak, then I am strong.–2 Corinthians 12:9-10
As many times as I have read 2 Corinthians 12:9, I've never stopped short on these first few words: "He has said to me."
Paul prayed three times for God to remove something difficult in his life. Something painful and debilitating–a thorn in his flesh.
When we pray for our needs, we long to hear from God. During the COVID-19 we have a new perspective on our needs.
Fear can run rampant as we  face a new reality.
We seek strength, healing, and God's power in the midst of a global pandemic.
Hearing from God Strengthens our Soul
These simple words are so precious: "He has said to me." There is the intimacy of relationship and the acknowledgement that Jesus hears and responds.
In these hard days, isn't that what we long for–to hear from God? The spiritual practices of reflective Bible reading and prayer open our hearts to hear from God. Sequestered in our homes, reading God's Word is a powerful use of our time to overcome fear and to receive God's strength.
Time in God's Word gives us the truth that sets us free–we can trust Him with our fears and weaknesses. He reminds us that He is our sufficiency, our "enough" for our need. These words are a declaration and promise to strengthen our soul with faith we need to persevere through pain, panic, and problems..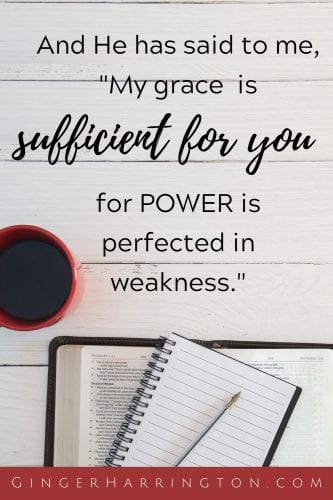 How counter to the world's way of responding to weakness. And how counter to the old patterns of my flesh that just want to fix the problem and feel better. Paul learned to place a greater value on God's presence than the problems he faced. 
Paul learned a deep level of soul-contentment in the hard places of life. Don't we all need powerful levels of Christ's strength and provision as we navigate the challenges of a global pandemic?
Paul understood that his weakness wasn't something to fix, defeat, deny, or avoid. Rather, he discovered the very weakness that plagued was actually an opportunity to discover God's power in a personal way. A real way.
A way that changed lives.
Friend, we have this same opportunity today.
The Jesus way rests in the grace of Christ's sufficiency.
What I learn from God's word to my heart today is that soul strength comes only from relying and receiving from Jesus.
[tweetthis hidden_hashtags="#prayforcovid19″]Trust is the action of my soul that sets grace in motion in a time of global need.[/tweetthis]
Every need is an opportunity for God to provide.
This word "sufficient" means to be possessed of unfailing strength, to be enough, to defend against danger, to be satisfied and contented. Just what we need every day, but especially these days.
Let's choose the Jesus way of responding to the things that sap our strength and ignite our fears. Together let's pray for the power of God to meet the mounting needs of our families, communities, nation, and world.
5 Ways to Overcome Fear with God's Power During Covid-19
Consider the following ways to apply 2 Corinthians 12:9-10 during the coronavirus. Applying God's Word is where the spiritual meets the practical–especially in our times of weakness.
1. Read your Bible. Take time to SEEK and LISTEN to His words in Scripture. 
2. Shift your mindset to view fear and weakness as an opportunity to experience the power and strength of Jesus. 
3. Receive His grace that gives  strength. Trust Him to be your supply to overcome fear and to meet your needs.
4. Embrace the truth that when you are weak, Jesus is strong in you. Believe it. Declare it. Remember it. Live like it is true.
5. Pray for God to release His power to heal and miraculously provide in this problem that is so far beyond our capacity to contain. May His strength to manifested on the earth through His people.
Be blessed, my friends, and stay healthy and safe. May you experience God's sufficiency and power in your life. And then give what you've received to those around you!
How can I pray for you today? Leave a comment or send me a message. I am honored to pray for each request.