I'm excited to feature a guest post by my friend Betsy de Cruz, author of More of God: A Distracted Woman's Guide to More Meaningful Quiet Times. I'll be interviewing Betsy on FB Live on May 22 on my FB page. I'll be guest posting about 7 Helpful Ways to Listen to God on her website today as well. We're capping off the fun with a book bundle giveaway of both our books. See the contest at the bottom of this post to enter the drawing!
Have You Taken Water for Granted?
Can you imagine having running water for only one hour a day? Back when my husband and I were newlyweds in El Salvador, our neighborhood only had running water between 3 and 4 am! At any other hour, nothing but dry air came out if we turned on a water faucet.
When water became my most precious resource, I realized how much I'd taken it for granted. In the same way, believers often forget what a precious resource we have in the Bible, and we take reading Scripture for granted.
Tasks like doing laundry and washing dishes become impossible without water. Likewise, challenges like trusting God and growing more like Jesus are unattainable without reading Scripture.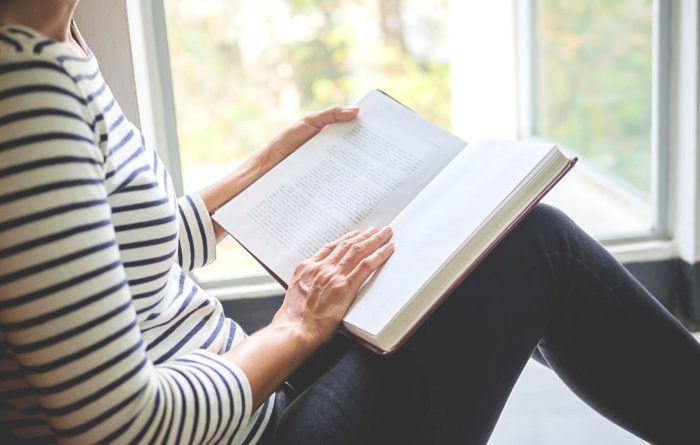 We need water to quench our thirst and stay healthy, and we need our Bibles to walk by faith, not by sight, through the challenges of this life.
Doctors say we need 8 glasses of water to stay hydrated. As Christians, we also need frequent intake of God's Word to develop a healthy, thriving faith and experience the abundant life Christ promised.
[tweetthis]As believers in Christ, we need the Word like we need water.[/tweetthis]
Reading Scripture feeds our faith, renews our thoughts, and empowers us to run our race. Yet sometimes we go through dry times when we open our Bibles and can't seem to get much out of them, just like the faucets ran dry in my house.
How do we get more of the spiritual nutrients we need from reading Scripture?
The Value of Being Intentional
Back in our El Salvador days, my husband and I had to get intentional to make the most out of that one hour of running water. We'd set an alarm clock and jump out of bed when it rang at 3 am. I'd start the washing machine while Jose filled plastic storage containers in the bathrooms and kitchen.
Similarly, we need to get intentional to make the most out of our time reading Scripture each day. Proverbs 4 paints a tender picture of a father teaching his son: "Take hold of my words with all your heart; keep my commands, and you will live"(Proverbs 4:4b). This father's words illustrate the kind of attitude we need to cultivate towards Scripture.
Let's take hold of God's Word with all our hearts.
We forget reading Scripture is an opportunity to meet with God and hear Him speak truth and encouragement into our hearts. The first and most important step is to draw near to God in prayer and ask Him to speak to us as we open our Bibles. (You'll find more ideas in my book, More of God: A Distracted Woman's Guide to More Meaningful Quiet Times.)
Try These 11 Ways to Get More Out of Reading Scripture:
Read it out loud.Reading aloud helps you wake up and pay more attention. You can turn Scripture into a prayer or declaration.
Read it together with someone: your husband, your kids, or a friend.
Read a passage in several different versions and see what new meanings become clear. Most Bible apps have a "Compare" feature.
Highlight, underline, or circle words as you read. I often read a passage twice, once for general understanding, and a second time to look for repeated words, themes, or a verse I want to focus on.
Answer a question about the passage you're reading.Try one of these:
What's the key verse for me here?
What difference can this make in my life?
How can I live this out today?
Memorize a verse. Carry it around with you on a card or in your phone.
Make it personal. Write out a verse in your journal, substituting your name in the appropriate places.
Listen to Scripture. Listening to a Bible app is a powerful way to get more of God's Word into your day while you put on your makeup, drive your car, or take a walk.
Share God's Word with Someone. Watch the Bible come alive as you tell your spouse, a friend, or a child about a verse that encouraged you.
Pray the Word. As you read, stop to pray for yourself or others, according to the ideas expressed in the passage. Follow the Holy Spirit's prompting.
[tweetthis hidden_hashtags="#biblereading #quiettimetips"]The more we actively take hold of God's Word, the more it takes hold of us.[/tweetthis]
Just like drinking 8 glasses of water a day requires discipline, reading Scripture intentionally takes effort.  But as we make that effort, we'll find a renewed perspective, stronger faith, and the power we need to live each day with more joy.
Now it's your turn. Which one of these ideas do you resonate with?
My Thoughts on Betsy's Book: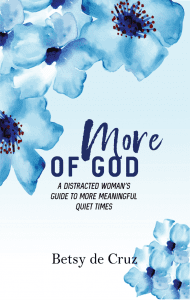 In More of God: A Distracted Woman's Guide to More Meaningful Quiet Times, Betsy  writes with an engaging blend of personality, humor, spiritual depth, and practical help for equipping women to draw closer to God through a regular quiet time.
I love the honest and relatable tone  as Betsy shares her own challenges with distractions and unpacks a variety of strategies and tools for mental focus and increased depth in Bible reading, reflection, and prayer.
With good instructions and creative ideas, Betsy fills our toolbox with both standard Bible study tips as well as many I have not seen before. I love discovering new ideas for enhancing my time with God! 
You can see why I'm excited to team up with Betsy! 
Meet My Friend Betsy de Cruz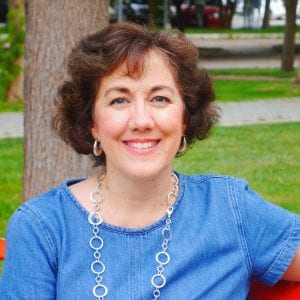 Betsy de Cruz helps overwhelmed women take small steps to invite more of God's presence and power into their lives. Connect with Betsy to get your free Quiet Time Renewal Guide and other resources at FaithSpillingOver.com.Her book More of God is a distracted woman's guide to more meaningful quiet times. After living in the Middle East for 16 years with her husband and two children, Betsy landed in Texas, where she still enjoys drinking chai with friends.
Connect with Betsy on Facebook, Instagram, or Pinterest.
You can check out my post on listening to God on Betsy's site here.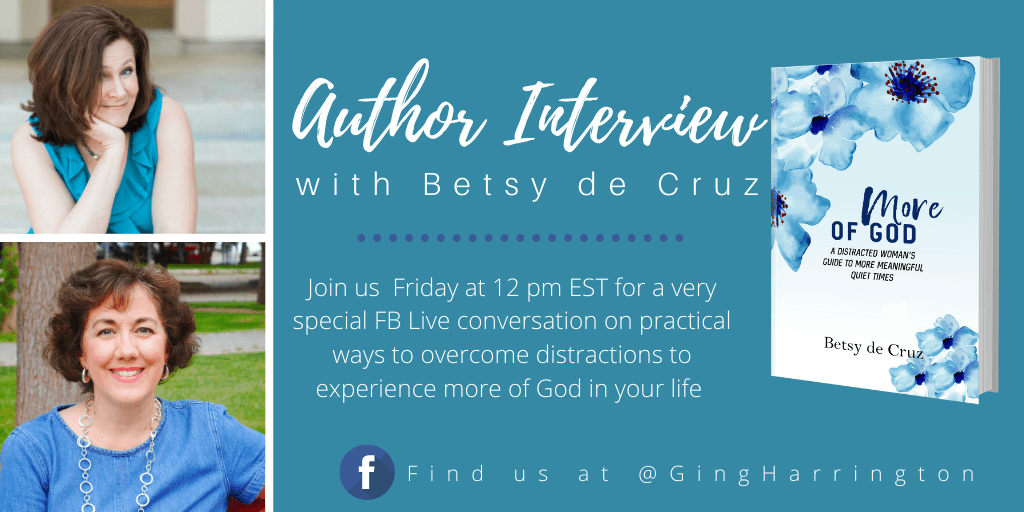 Enter to win a copy of More of God and Holy in the Moment! 
Leave a comment on this post to let us know which entries you've participated with. The winner will be drawn May 29!