Holy in the Moment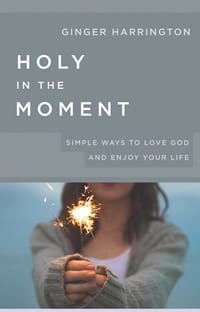 "A pour-calming-waters-into-an-overbusy-life book."
–Carrie Daws, author and speaker

"Eye opening, thought provoking, and heart changing."
-Lorilee Sheviak, counselor, Grace Ministries

"This book is powerful – raw – purposeful – challenging. I love it!"
—Michelle Kiefer
Each year on Christmas Eve we enjoy attending church and having a quiet time enjoying the ambiance of reading the Christmas story around the Christmas tree. After something yummy to eat and a little hot cocoa, we stir things up a little with a game we call The Grab Bag. Inside a large bag are an odd assortment of practical and silly gifts. Once the giftys are collected, I tie yarn or string around them, place them in a bag that you can't see through, and wa-lah…we are ready for some fun!
Some treasures I gather from around the house…like a roll of toilet paper or fun photo from the year. Others I borrow from my stocking stuffer stash…maybe a bottle of mouth wash (used could be an interesting twist..) or a pair of ladies stockings. Then there are the dollar store items…things like a tacky figurine, a birthday party favor, a kid's toy, a mug, a pack of post-it-notes, a candy bar…you get the idea. The best part of The Grab Bag includes the gag gifts and inside joke gifts that are mixed in.
Speaker and Innovative Ministry Leader
"Great speaking style! Super engaging…she was talking to ME!"
–Angela McGennis
---
"Ginger delivers the perfect mix of humor and heartfelt convictions."
-Patti Perrin
International speaker and innovative women's ministry leader, Ginger Harrington loves sharing God's word with women. With over 10 years of speaking experience, Ginger brings encouragement, truth and authenticity to every group she meets.