Holy in the Moment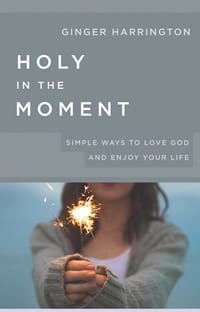 "A pour-calming-waters-into-an-overbusy-life book."
–Carrie Daws, author and speaker

"Eye opening, thought provoking, and heart changing."
-Lorilee Sheviak, counselor, Grace Ministries

"This book is powerful – raw – purposeful – challenging. I love it!"
—Michelle Kiefer
Why don't teenagers like to wash dishes? Open dishwasher, insert dish, shut the door…it's not that hard people! This task seems to swipe off all of the appearances of the helpful child, revealing the true heart that would rather be…texting. How texting possibly compete with the joys of a clean and tidy kitchen I cannot understand…but it is true. One solution is to glamorize dish washing in the media. How about some MTV videos featuring the exciting art of dish washing rather than break dancing?
And have you noticed that there are no X-games for dishwashers? No competitions of Olympic proportions with cool uniforms. What incentive is there to train and build skills if there is no glory of competition…no opportunity to win trophies or accolades for dish washing.
What are we thinking?
There are few cool gadgets for dish washing…no crazy-fun soap dispensers, no cool noises, and no neon colors (unless you're into that color for your dishes). Seriously–a sponge, a rag, or a spray nozzle is as good as it gets. A rag?
No wonder no one gets excited about washing dishes.
Speaker and Innovative Ministry Leader
"Great speaking style! Super engaging…she was talking to ME!"
–Angela McGennis
---
"Ginger delivers the perfect mix of humor and heartfelt convictions."
-Patti Perrin
International speaker and innovative women's ministry leader, Ginger Harrington loves sharing God's word with women. With over 10 years of speaking experience, Ginger brings encouragement, truth and authenticity to every group she meets.