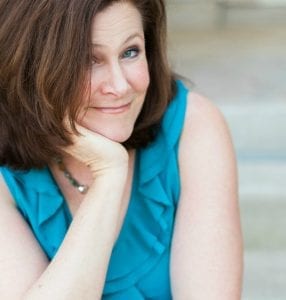 Author of Holy in the Moment: Simple Ways to Love God and Enjoy Your Life, Ginger Harrington is an award-winning blogger, entertaining speaker, and innovative ministry leader. Most recently, Ginger has garnered a top 10 spot as a finalist in the global Author Academy Awards (Fall 2018).Sharing God's word in creative and relevant ways, she helps busy women to live well by making intentional choices to love God, embrace truth, and enjoy life.
With over 10 years of speaking experience, Ginger has inspired women with more than 100 speaking sessions. With her trademark quirky humor, Ginger entertains audiences with characters such as The Queen of Good Intentions, Can't-Get-It-Together Girl, and My Inner Wimp to enliven her inspirational messages.
Encouraging many through her award-winning blog, Ginger maintains a practical focus on drawing close to God and living out biblical wisdom. Ginger also writes for Planting Roots and Almost An Author, as well as guest posting at Guideposts, (in)courage, The Praying Woman, For Every Mom, and other blogs.
Ginger's writing has received Blue Ridge Mountains Christian Writers Contest Awards for best blog (2105), online article (2015-2016), and non-fiction book (2015-2016).
As the Coordinator of Publishing for the non-profit, Planting Roots: Strength to Thrive in Military Life, Ginger speaks, coordinates social media, and oversees published content in the ministry. Through online Bible studies, blogging, social media, and live events, the ministry's goal is to inspire, encourage, and equip women in the military community to plant roots of faith wherever they go. In four years of ministry, Planting Roots has held conferences in CA, KS, TX, GA, TN, VA, OH, and Germany.
Ginger has a bachelor degree in English with certification to teach, and a master degree in English with emphasis in teaching methods. Drawing on teaching skills learned in the classroom and twenty years' involvement both with the Navigator's military ministry and with women's ministries as a teacher, speaker, and trainer, Ginger has incorporated practical discipleship skills in her content. Consequently, Ginger has developed a style that reflects her emphasis on mentoring and discipleship.
As a career military spouse, Ginger has spent twenty-four years moving around the United States and overseas, working with Chapel and local church ministries in each location. Ministry with Protestant Women of the Chapel has given her many opportunities to gain experience in multiple capacities, including as teacher, speaker, worship leader, comedian, facilitator-trainer, and international leadership trainer. Experience in youth ministry and raising three children has given Ginger the ability to connect with a variety of age groups.