One of the things I love about summer is doing a little vacationing with my family. These days, vacations come in all shapes and sizes, from cruises, to time-shares, to road trips, sightseeing, visiting family, and the good ole standby…staycation. These are just a few of the options, but for me, there is nothing better than going to the beach.
There is something refreshing about stepping out of the duties and routines that often rule our day and command our to-do lists. A change of pace and a switch of space can provide nice memories and mementos to fill up the scrapbook. I am grateful for time and opportunity to enjoy a special time with family.
A quirky look at our beach trip for summer fun.
We just returned from a trip to one of my favorite places–the beach! .
At one time, we spent four years in Okinawa, Japan, and island living definitely intensified my love most things beach.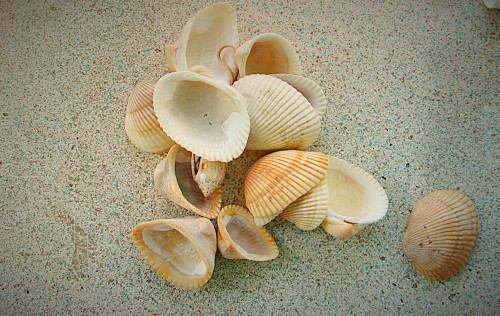 Beach combing and collecting shells is one of my all-time favorite things to do.
My not-so-favorite things about the beach…
Jellyfish and sunburns I can do without, but the rest of the beach experience…bring it on! Oh, and live fire and unexploded ordinance is another beach thing I can do without. Seriously, how many times are you going to encounter this problem? We ran across this beach experience while visiting Camp LeJeune, NC.
Yes, these are things you don't expect to find at the beach. We'll find someplace else to play.
A new season for the family vacation.
This year we entered a new season, and one I haven't really been looking forward to. Two out of three kids, had jobs and schedule conflicts, so it was a part-of -the-family vacation. I knew it would happen someday as the under-twenty crowd grows up. Gone are the days of sand buckets and arm floaties, with all the kiddies begging to go, "play in the waddie, Daddy!"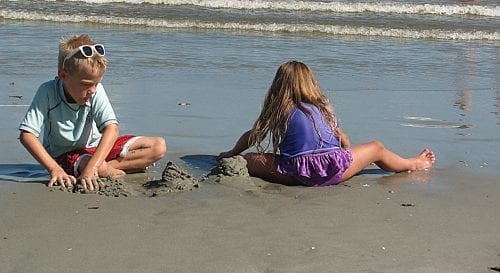 What to do about that?
Take pictures of other peoples kids! These two cuties belong to friends we see each year at the beach.
Though we missed two-thirds of the kid factor, it was still a great trip. We adopted somebody else's child for the week and took off. As I reminisced about beach days when the kids were younger, I realized some things you never outgrow.
Other things, some of us outgrow…
I can't remember the last time I did a handstand, and I am thinking I am better off to let that one go. How about you? When it the last time you did a handstand? Vacations are a perfect time to play!
At the beach with teenagers:
Beach vacations with teenagers, have a different vibe. No longer are they hitting the waves by 7 am–they usually aren't even opening their eyes until 10. Beach preparations are also a little different with teens. No longer am I packing a bag crammed full of toys, snacks, and clothes.
Basically, if you have food, sunscreen, and cell phones, you are ready to roll. How easy it that! Here is our crew with the cousins, hanging out at the pool and sharing the fun with everyone they know via facebook and instagram.
I can't even begin to tell you how many pictures these guys took.
Speaking of taking pictures, another game is Dress-up-and-Pose-for-the-Camera. I loved taking pictures of these two as they hammed it up.
The only draw back for taking beach pictures is the sporadic issue with…beach-wind-hair. Beach hair or not, the beach looks great on everyone! This gorgeous gal is my sister, who joined us for our fun summer vacation.
No beach trip is complete without summer reading.
Cruising the pool, I saw a wide variety of summer reads. This unusual choice caught my eye:
Another thing I love about vacation is meeting people. After brazenly asking to take her picture, I enjoyed chatting with Louise of Anderson, SC. Funny thing, Louise is a kindergarden teacher, pastor's wife, and works part-time at a funeral home. I'd say she's got all the bases covered and lives an interesting life!
Vacation can allow time for everyone to do what they enjoy.
For some savvy vacationers, they have figured out how to do it all at once.
This is my husband and a very happy guy. Ready for a day of golf, body surfing, beach lounging, and celebrating the 4th of July. He is the master of multi-tasking and time management–especially on vacation!
Last but certainly not least, another great part of vacation is…the food! Here is my favorite summer supper: Low Country Shrimp Boil.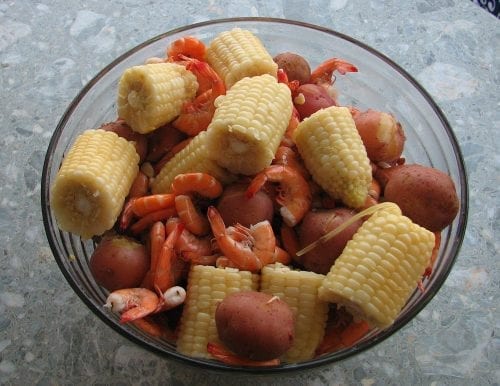 This dish is easy to make and is a great choice for all but those allergic to shellfish. Just dump it out on newspaper, and no dishes to wash. Score!
So, from our family to yours…Happy Summer!