International speaker and innovative women's ministry leader, Ginger Harrington loves sharing God's word with heart, hope, and humor. With ten years speaking experience in more than 100 sessions, Ginger helps busy women to love God, embrace truth, and enjoy life with fresh faith.
[wpdevart_youtube]8WXNxDVn4YI[/wpdevart_youtube]
Diamonds in the Rough
Learn to shine like a diamond through the glory of transformation. Explore the exciting process of experiencing God's transformational work. God is in the process of transforming each one of us from a rough stone to beautiful gemstone. How does this transformation process work?
Becoming Your Best You
A Secure Identity in Christ
Learn to weed out the flesh and thrive in the holy identity Christ gives us, discovering the reality that He will meet our needs and free us to fully blossom into the people God created us to be. Strength to thrive in Christ empowers us to offer our gifts and scatter seeds of life to wherever God sends us.

Discipleship of the Heart
Enjoy a fresh perspective on discipleship that speaks to the deep issues of the heart. Only as we receive Christ's love for us can we truly love one another, free from the self-motivations of our flesh. In this vital commandment, Christ reveals our deepest need, highest goal, and greatest gift.
Make the Most of Today
Lessons for Living Well in Psalm 37
Join Ginger for an in-depth look at practical steps to vibrant life in Psalm 37. Overcome the destructive force of negative emotions and discover the refreshing power of delighting in God. Let's choose practical holiness today!

Got the Gift of Girlfriend?
The Art of Building Strong Friendships
Good friendships don't happen by accident. Be the friend you want to have with practical tips for the art of friendship. Brush up your relationships with encouragement for building strong friendships.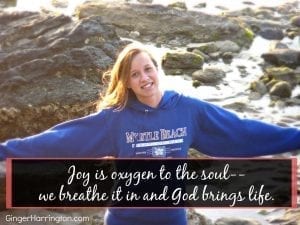 Better Than Happy
Finding Fresh Joy
Do you feel like finding joy in the hard things is only for the spiritual superheroes–those that can leap over the walls of hardship in a single bound? Discover joy that protects your heart as you learn to live lightly and identify and let go of joy stealers. Packed with insights from Philippians, this series is sure to inspire you to reach forward for more of Christ, the source of our joy.

Spiritual Gifts: Gift-Wrapped with Grace
Unwrap God's special gift for you as we discuss the joy of discovering and developing your spiritual gifts and finding your fit in the body of Christ. Learn about God's calling for every believer to use your spiritual gifts. This is a multi-session retreat topic.
Building Others up:
Connecting with Deeper Relationships
Building Healthy Relationships
God's Blueprint for Encouragement
Building Up or Tearing Down: Hinderances to Encouragement
Discouragement Tears Down but the Lord Builds Up
Put Your God Ears On
Practical Tips for Listening to God and Embracing Truth
Invigorate your faith with a fun and practical look at specific ways to read Scripture as a conversation with God. This workshop will demonstrate how to use Bible study tools in an organizational format that encourages listening, application, and consistency to maximize spiritual growth. Discover the difference between reading for information and listening for relationship. Applicable for any experience level, these skills will enhance both your personal quiet time as well as any Bible study!
[wpdevart_youtube]dkp9US5av08[/wpdevart_youtube]
Audio Clip: Tips for Hearing God in Your Quiet Time
Struggle with distracted worship? Discover Scriptural principles with a focus on practical strategies and take-away pointers to refresh your heart for worship. Experience how worship can energize your relationship with God and develop worship as a lifestyle rather than a choice of music.
"Truly full of His grace! For such a time as this."–Cheryl Wilson
Ginger draws you to the throne room in humility and honesty."— Andy Lee
Beat the Craziness of Christmas
[youtube_sc url="https://www.youtube.com/watch?v=jpmrOhagHJQ" title="A%20humorous%20and%20insightful%20look%20at%20overcoming%20the%20busy%20pace%20of%20Christmas"]
Is your Christmas to-do list as long as a roll of toilet paper? Laugh about the craziness of Christmas with humor and inspiration. Don't brush past the true meaning and joy of Christmas on your way out the door to the next event. Frantic can overtake festive unless we learn to create space to celebrate the true gift of Christmas that came wrapped in swaddling clothes rather than paper and ribbon.
Hire me for an event. I'd love to talk to you about your event! Contact me here.