Pshew! It's been crazy-busy with some really special events lately! I've been so thankful to have the opportunity to share with a variety of churches and groups! This is my sweet-spot and I really love getting to be with folks in person. Writing is great, but being a relational gal, I'd much rather be with you in person.
If you missed my last post, please check out the back story and conference highlights from our first conference at Planting Roots. It is such a special story of God's grace at work.
This past weekend I had some serious EMM. That would be Emotional Mom Moments! My oldest graduated from James Madison University and we are jump-up-and-down proud of him. God has been so faithful in our lives. I am FILLED to the top with gratitude for this young man. We're also happy to have one less college tuition to pay!
It is great to have the older kids home from college. They rolled in last night.
And so did their stuff.
Lots and lots of stuff. My house just exploded in a joyful mess!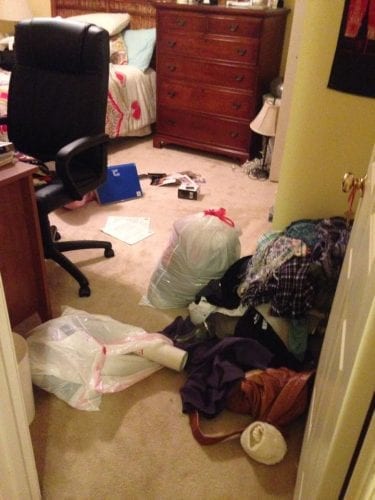 I don't usually have such a run of personal events on the blog–but I can't resist sharing with you some special moments lately. That's what friends do, right? Here's one more special thing to share:
Introducing New Online Bible Studies from Planting Roots!
Join us for a short weekly online Bible Study at Planting Roots. This first series features content from the sessions of our recent Strength to Thrive conference in Lawrence, Kansas. This week I'm up, which is why I'm sharing it with all my bloggy friends.
Planted: My Identity in Christ
What's growing in your life–weeds of the flesh or fruit of the Spirit?
Know: I have been crucified with Christ; and it is no longer I who live, but Christ lives in me; and the life which I now live in the flesh I live by faith in the Son of God, who loved me and gave Himself up for me. Galatians 2:20
Consider: What is the first thing we get when folks become part of the military – an ID card, right? This card has our picture and information, but it is not our true identity. If I am a Christian, Christ is the basis of my true identity however I am often tempted to follow my flesh rather than follow the Spirit.
Following my flesh means my focus is primarily on myself, rather than on God. As a result, I rely on my own natural resources, rather than God's supernatural strength to cope with life. This can be especially tempting for very capable people (like many military folk).
Join me at Planting Roots for the rest of this new study. Love to have any and all check out our weekly Bible Study, a brand new feature of Planting Roots. Even if you aren't part of the military community, I invite you to join us–there's some practical reminders about the struggle we all face when it comes to walking in the Spirit.
So how about you? I've shared some special moments from my life. I'd love to rejoice with you about a recent happy moment. Leave a comment and let's praise God together for the good things in life!
Joining friends at Inspire Me Monday and #RaRaLinkUp today.