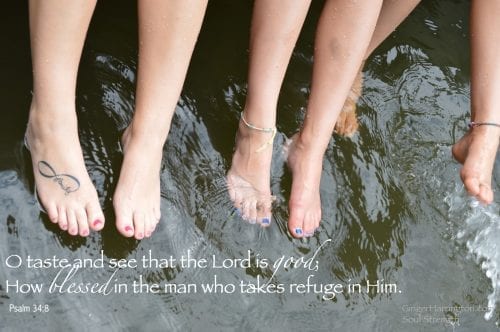 Try these ideas for enjoying God. Mix it up and let go of any misplaced pressure to devotional duty. Refresh by spending time with God in different ways. The intent of this list is not just another thing to do–we've got more than enough of that.
1. Try a new devotional.
2. Read a Psalm every day.
3. Take a regular prayer walk.
4. Make a new playlist of worship songs–and really worship when you listen.
5. Look with new eyes–worship with your camera to appreciate the beauty of life.
6. Embrace goodness–keep a running list of joyful moments.
7. Write thankful notes to God on slips of paper and place in a pretty container.
8.Pray Scripture– soak in truth, letting your prayer be guided by God's Word.
9. Make a spiritual scrapbook–collect scriptures, insights, moments, and pictures.
10. Sit with Jesus on your porch–practice the art of being still.
11. Hang out with friends with intentional conversation of truth and joy.
12. Read a spiritual book as a family or gathering of friends.
13. Rest–invite Christ into your rest and be intentional about recharging.
14. Lay on your back, watch the clouds drift by and talk to God from the heart.
15. Expect God–look for God moments in your day.
16. Let go of one thing that has been causing stress by releasing it to God.
17. Celebrate life and cherish love.
18. Practice meditating on Scripture–it's easier than you think!
19. De-clutter your mind and schedule.
20. Laugh loud and look at life from the perspective of a child.
21. Get outside and enjoy time soaking in natural beauty to bring rest to your soul.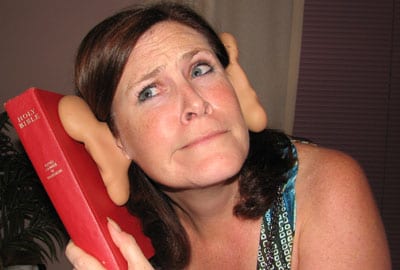 Put Your God Ears On
Ever feel like there are marshmallows clogging your ears when it comes to hearing God? We long to hear from God, but sometimes lack confidence that God will speak personally to us.
Hearing God through the Scriptures is about relationship. Too often, we are more focused on information and performance [doing what good Christians are supposed to do]. I can only say this because I have done it — a lot.

 Simple tools for listening to God and understand the Bible.
Try a few of these simple ideas as you read the Bible. These are basic ways of hearing and responding to God through His Word.
1. Observation: What does it say?
Notice basic details. What does it say? Really, what does it say?
Summarize or paraphrase: Restate a brief portion of the content in my own words.
2. Interpretation: What Does it mean?
Contextual: What is the literal or figurative meaning? Consider historical or situational (what is happening) details. Consider how the verse fits into the context of the chapter or book.
Personal: What does it mean to me? Focus on personal impression. How and why did this passage stand out to me? Does this verse apply to an area of need or concern in my life?
3. Application: How can I apply what I have learned?
What will I do about it?
How can I practice, apply, or use this in my life?
4. Prayer: Let the words of the verse trigger related or personal prayers.
Express personal needs or desires.
Pray about the needs of others as they relate to the verse.
Converse with God about the truths in the verse.
5. Praise, worship and thanksgiving: Let the verse inspire my response to God.
Praise God for the wisdom and truth in the verse.
Worship God for who He is and what He does.
Thank Him for something related to the verse.
So here is a simple tip for talking to God:
Let's talk about the same thing.
When we read Scripture, we need to learn to stay on the same subject with God—to respond to what He has said, rather than changing the subject and praying about something else—stay on topic so you can hear all that God has to say.
What do I too often do?
Great verse, Lord. Thanks for guiding me…
And then I whip out my laundry list of prayer requests and I am of praying for Aunt Gertrude—(which by the way is a great thing to do, but that's not my point).
God is gracious and will keep listening to me…but what have I missed by not staying on topic with what God had to say? His words went in one ear and right out the other with barely a stop in the grey matter between.
Meditation teaches us to read with the heart being fully present with God.
Through meditation we learn that the words Christ speaks to us "are full of the Spirit and life" (John 6:33).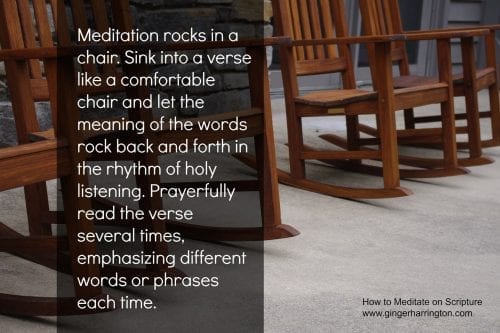 Meditation walks through the doorway to enter deeper into Christ. Meditation opens the door to understanding and obedience takes us all the way in. "Behold, I stand at the door and knock; if anyone hears My voice and opens the door, I will come in to him and will dine with him, and he with Me" (Revelation 3:20.)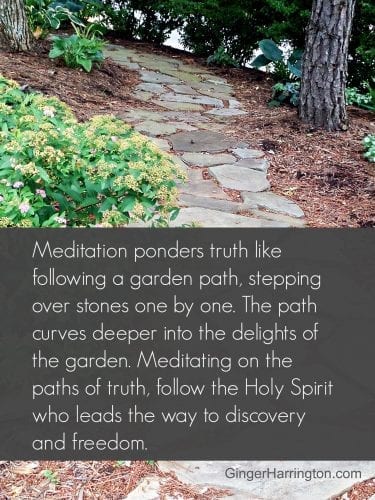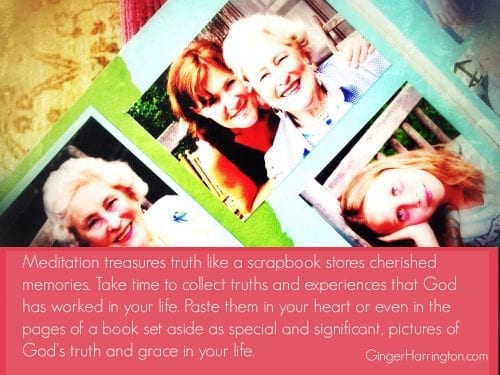 Meditation writes truth on the tablet of our lives. Journal connections and observations. Pressing pen to page, ask questions and stop to think and listen. Journaling meditation stands on the watchtower, ready and waiting to see what God will say.
My Favorite Go-To Bible Links:
The following links are resources that I often use.
Bilblegateway.com–great for reading in different translations, looking up a particular  verse or key word.
Blueletterbible.org is my favorite spot to look up meanings of words.
10 Ways to Refresh and Recharge Your Spiritual Gifts
Like cold mountain water, rushing over rocks on a hot, humid day, the word afresh is something I could use a lot more of. How about you?
Afresh, refresh, anew…freshness is found in the Holy Spirit and is the result of drinking of the "rivers of living water" that sprain up from our innermost being (John 7:38). Freshness helps dissipate weariness, providing energy move forward as well as  stirring up creativity to receive the groundwork for new plans.
Feed your fire with daily doses of God's word.
Explore, practice, express–play with ideas whether or not there is exact opportunity at the moment.
Change it up. Incorporate variety into your day. Do something different.
Let God lead. When we take the responsibility of making things happen on ourselves, it is easy to get off track. Uncover joy in the process.
Enjoy the little steps that take you where you are going.
Be observant–watch for inspiration in new things you learn, books you read, pictures you take, experiences you enjoy.
Anticipate God. Expect to see Him work in and through you. It is not all on you, so you can relax a little.
Rest. Exhaustion suffocates passion and drive.
Remember that we are called and gifted by grace, ultimately it is His work in us that will last.
Trust God to finish what He has started
Open the window of your soul and let the fresh breeze of God's Spirit, His word, and His blessing blow through and ignite your heart to burn brightly as we continue to shine in the light of His glory.
What do you do to kindle your fire?
Linking at Monday Minute with God.