Holy in the Moment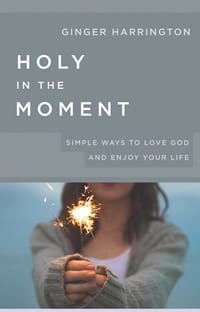 "A pour-calming-waters-into-an-overbusy-life book."
–Carrie Daws, author and speaker

"Eye opening, thought provoking, and heart changing."
-Lorilee Sheviak, counselor, Grace Ministries

"This book is powerful – raw – purposeful – challenging. I love it!"
—Michelle Kiefer
Isn't it great to be one of the family? There is a feeling of security when you know you belong . When you are part of the family, you know where you live…duh. You have a key to the door and you come right on in whenever you want to, because you live there. Right? When you are part of the family, you can help yourself to whatever is in the refrigerator (unless of course, your mom has but an "Eat this and you will Die!" note on the banana pudding. When you are one of the family, you can snuggle up on the couch and put your feet on the coffee table. You can relax because you know you belong. You know you are supposed to live there. You are loved and accepted, even if you are having a bad day and are feeling a little testy.
Speaker and Innovative Ministry Leader
"Great speaking style! Super engaging…she was talking to ME!"
–Angela McGennis
---
"Ginger delivers the perfect mix of humor and heartfelt convictions."
-Patti Perrin
International speaker and innovative women's ministry leader, Ginger Harrington loves sharing God's word with women. With over 10 years of speaking experience, Ginger brings encouragement, truth and authenticity to every group she meets.