Do you ever have the feeling of everything  happening all at once? Yes, me too! This week I've had several posts popping up around the web–I'm breaking out of my corner. I want to share a couple with you, and hopefully there will be something in the mix that will encourage you. Next week, I'll post a few more. So here goes…
For Every Mom is a large parenting website that features all kinds of posts for moms. I am deeply grateful a kind friend (thank you whoever you are!) sent one of my articles to the editor. This is my second post at For Every Mom:
Do you ever have those days when you are just in a snit?
• Days when your best effort is nowhere near enough to close the gap of all that needs to be done?
• Days when "just one more thing" is enough to push you over the edge of reason?
• Days when you just don't like what the Bible has to say about things like patience, rejoicing, and kindness?
I must confess to a bit of an attitude about a little phrase that has been getting my goat lately: STILL MORE.
At first glance, these two words seem pretty harmless, not the pull-your-hair-out and grit-your-teeth kind of language. Think again.
Take a look at this:
"And this I pray, that your love may abound still more and more in real knowledge and all discernment..." Philippians 1:9
How much more is STILL MORE?!!
You can read the rest of this post here.
…………………………………………………………………………………………………………………..
I have the privilege of writing a monthly post on blogging basics for Almost An Author.  You'd think this would be a cakewalk after years of blogging. Actually, these posts have been very challenging to write–and I'm really not sure why. Go figure.
You sit down at your computer to write a new blog post. A blank screen is all you can see. Drumming your fingers on the desk, you wrack your brain for something to write about.
Sound familiar?
Author Lori Roeleveld teaches that blogs are hungry beasts that need constant care and feeding. In blogging, we regularly need to write new content, which can be challenging. There are days it can make you want to run screaming into next week!
Successful bloggers generate new content by incorporating a variety of post formats. When it comes to formulas for blog posts, there are many to choose from, but not all will be a good fit for your style and focus. Experimenting with a variety of post types, I have found a selection that fits my inspirational niche. Consider a few of my favorite styles of posts, and try a few to invigorate your blogging to add to your portfolio.
You can read the rest of this post here.
………………………………………………………………………………………………………………….
Friends, I hope you have a wonderful fall weekend. As a happy Friday gift, here's one of my favorite fall photos to share. I can't wait for the leaves to start changing–it's almost time!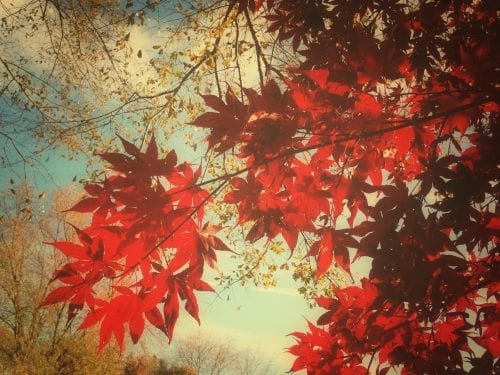 As always, thanks for reading!