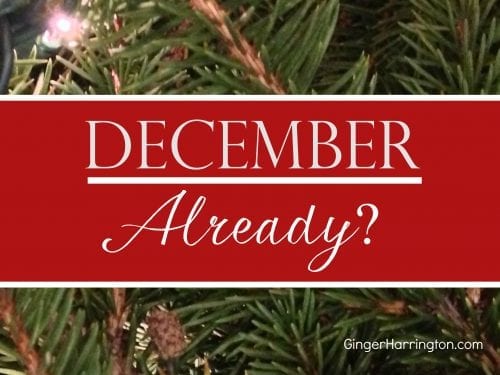 How in the world can it be  December already? Due to a busy fall, December feels like it is catching me by surprise. Has this happened to you too?
Part of me just wants to catch up on too many tasks due to a hectic pace over the last few months, yet December opens its doors. I take a deep breath, ready to jump in anyway because I don't want to miss a moment of this special time of year.
Last month I had the opportunity to share a guest post with my friend Arabah Joy. Sharing three simple ways to stay focused on God, I hope you'll find these tips helpful this Christmas. As we enter this busy Christmas season, let worship keep your heart centered and your spirit refreshed!
Tucked away in each of our hearts is a call to worship, to enjoy communion and relationship with God.
Created to worship, we ache with frustration as we grow weary with an over-crowded schedule of obligations and expectations. Fast paced is the new normal, and time to worship God is hard to find. How do we worship in the hustle of our harried schedules?
Early on a Sunday morning we scramble into church, running late and trying not to be noticed.
Music is playing a familiar worship song and some folks look half asleep. Some are worshiping but others with wandering attention are merely going through the motions.
Worship makes room for God in a life by placing attention on Him rather than on us. Worship becomes the Spirit-graced rhythm of our heart when we begin to live a life that worships.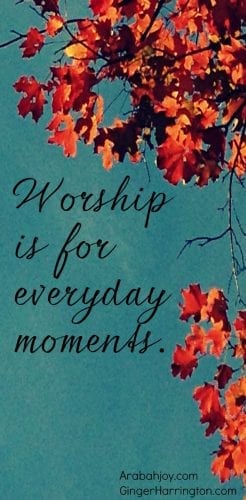 Worship is for the everyday moments we live–the saying and the doing of a life. The coming and going as well as the wondrous and the mundane. When worship becomes the posture of our hearts, it becomes a lifestyle and a mindset, rather than an activity.
Three Ways to Worship God with Your Life
There are many ways to worship God. These are three that have made a difference for me.
1. Keep a continual conversation with God throughout your day.
As you begin your day, mentally place your hand in His and ask God to lead the way. Remember that He is with you in everything you do and practice being present by talking with Him as you go about your day. Ask God to bring faith and activity together and let worship inhabit "every moment, living prayer, the continuous current and background of all moments of life" (Thomas Kelly 1893-1941).
Continue reading at Arabahjoy.com.
What helps you to live a life that worships God?