I've got exciting news to share.
I have recently signed with Mary Keeley, a literary agent at Books and Such Literary Management.
I'm excited about taking my work to the next level. I've been working toward publishing and this is an important step into the industry.
Help me create content that meets your needs.
How I wish we could meet for coffee and enjoy visiting. Wouldn't that be fun? In-person would be my preference for getting to know you better. But since that's not an option at the moment, I've created a reader survey to get to know you better.
If you're like me, surveys are not high on your list of fun things to do. Friends, here's what this survey will help me accomplish:
More relevant and useful content for you.
Help with upcoming blog design update.
Understand my audience for brand development.
Needed information for a current book proposal.
Wow! See what 2 minutes of your time can accomplish? Pretty cool, right?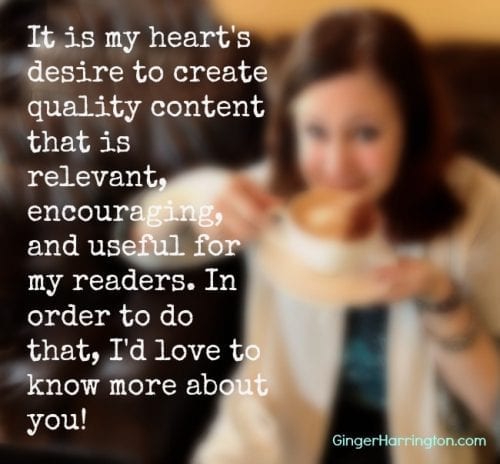 Will you take a moment to fill out this short 10 question survey? A few clicks and you'll be done!
Click this box to go to the survey.
Knowing my audience is a crucial part of content creation and proposal writing. So if you bypassed the survey, please take a moment to fill it out.
Thanks so much for taking a moment to fill out the survey!
What do you like best about this blog? Leave a comment here or on FB and let me know if you take the survey to be entered into a $25 Amazon Gift Card. The surveys are anonymous, so you'll have to let me know that you participated. I'll draw a winner on June 20.
Thanks so very much,