I discovered this nifty product for creating a little family fun and meaningful conversations at the same time. Can't beat that! Because I loved it so much, I bought one to give away on this blog. Yea!!
When my children were younger, it was such fun to do Thanksgiving and fall crafts and projects with them. Back in the day, they loved it. We ironed leaves in wax paper, made birdseed covered birdhouses out of milk cartons, glued acorns on picture frames. Yes, at one point, I was quite the Martha Stewart, a true Craft Princess Mom.
Alas, that was Pre-Pinterest!
One of my favorite projects  was to make little Thanksgiving books of the things we were thankful for, adding photographs and magazine pictures and getting messy with markers and glue.
Somehow, when kids trade My Little Pony for a set of wheels,  their bedroom for a dorm room, and they'd rather straighten their hair than play with Barbies, it gets harder to find a Thanksgiving activity that they won't roll their eyeballs over. Know what I mean?
Understanding the thrill a mom gets when you find a good idea, I am excited to share the Milestones Blessing Bowl. Even better, I am giving one away this week! Woohoo!
More details on that in a minute.
So what do you do with this blessing bowl?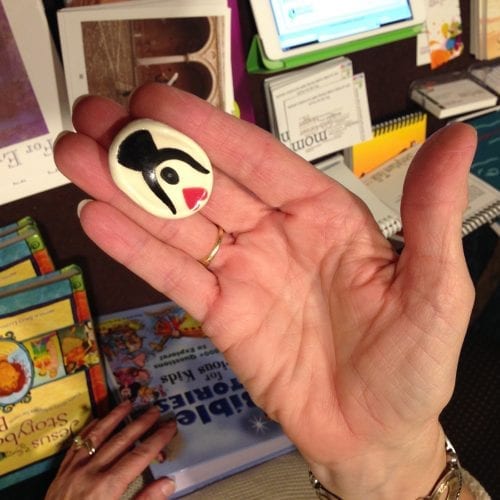 "Milestones Blessing Bowls are designed to remind us of those meaningful moments that make up our lives." Vibrant Faith.
This little bowl filled with pottery stones is a lovely prompt to share our faith stories with our families, and a creative way to start conversations that get to the heart. Score!
The ceramic stones represent various family faith milestones. Choose a stone out of the bowl, and share your stories and thoughts about open-ended topics, such as beginnings, gratitude, remembering, quests, loss, etc. You can also use the Blessing Bowl as a creative way to spark family prayer, letting the topics become prayer starters.
Here are a few suggestions for using the Milestones Blessing Bowl from the Vibrant Faith Website: (Excerpted)
At a family gathering, invite each person to pick a stone and share a recent milestone experience.
Carry a stone in your pocket as a reminder of the people and the God whose love goes with you.
Pick a stone at random and pray for the life situation that comes to mind.
Pass the blessing bowl at the dinner table and have every family member share a story of his or her day.
Have children match the stones to the pictures on the mat. Discuss the meaning of each stone.
Build a collection by adding a pebble, shell or small memento to the bowl that holds a special memory.
Now for the Drawing Info:
You can enter the drawing in any and all of the following ways:
1. Subscribe to the blog. Just enter your email in the box at the top right corner. You will get a confirmation email that you must click on in order to activate your subscription. Sometimes folks forget to do this and then never get all the awesome posts on Ginger's Corner. Your subscription has to be activated to enter.
2. Send your friends and email with the link to Ginger's Corner, and recommend they subscribe, telling them why you like the posts. Just ask them to enter a comment on the blog, telling me who referred them, and I'll enter your name, as well as theirs:)
3. Like my Facebook page. Just a note here, liking the page is different from liking a specific post. You can like the page at the top of the Facebook Box in the sidebar. How easy is that!
4. Share this post on your Facebook page encouraging your friends to enter the drawing.
You can enter as many times as you do any of these. I'll be drawing a winner at 5pm on Wednesday, November 20 so I can get it in the mail asap. Check the Facebook page and the blog for the results, and I will contact the winner via email or Facebook. As always, I am SO THANKFUL for those who read and support Ginger's Corner.
Just so you know–the increase in support will be a HUGE blessing when I send my book proposal in to the literary agent I had a great appointment with a couple of weeks ago! Thanks for participating.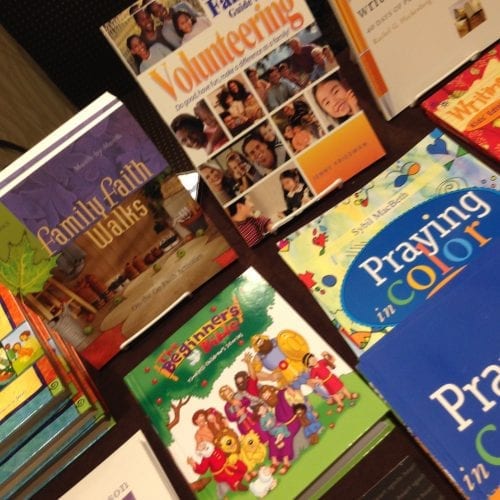 If you like this product and want to order this or other great family faith products, check out the Vibrant Faith Website and store.
What Thanksgiving activities do you do with your family? Be a blessing by sharing your traditions with all of us.