Just a reminder: Don't miss out on the drawing for Edie Melson's book. Enter a comment to enter! If you missed her guest post click here: Edie Melson
This week races by in a blur as I get regrouped from conference time as well as get new material prepped for a retreat this weekend. I have caught up (sort of) on basic household maintenance that has gone by the wayside as I have prepped eight hours of speaking sessions for these two events.
I have resorted to delegating the laundry to the dogs, put the teens to work, yet somehow I am still scraping those problem counter tops. I wonder what my family ate while I was gone. Glue? Whatever it was, they left half of it on my blessed corian. Note to self…reinforce that wiping the counters is part of cleaning the kitchen…like it or not.
Yesterday worked from 9:30-2:30 and promptly lost my work due to unsaved (I clicked the save button!!) changes and an nonresponding document. This is the trouble with working on multiple documents at the same time–I saved everything else a billion times but must have missed this one. Tempted to throw a fit frustration, I took a very deep breath, tried unsuccessfully to somehow find my work, and made a decision. If this is God's work and His material, than I can trust that He will enable me to put the pieces back together. I think I experienced a small miracle when 45 minutes later I had most of it back on the page.
Big relief. God is good…even when I am stupid.
Before time gets away from me, I want to share some snippets and lessons from the conference. Tomorrow, I will try my best to post some more material from the workshops.
This is my friend Brenda Pace. She is a talented author and speaker who sat me down one day and encouraged me to write a book. I laughed. She has helped me learn so much, fielding a million questions about proposals, editing, and publishing.
Over the years, I have had the pleasure of receiving (Holy Spirit gifts) some comic monologues to put with her talks. God has used this relationship to develop the comedy that is so often part of my speaking. You never know what God is going to do when you meet someone.
A couple of thoughts about how God has used this gal in my life:
1. Encouragement is a gift we give to others that keeps on giving.
2. It is often in serving that we discover our gifts. It is also in serving that we discover new ways to apply those gifts.
This picture is from My God Heart is Open: Lord, Teach Me to Worship. What can be better that getting to share my heart with folks who want to listen? Getting to sing and jam with amazing musician friends…and share my heart with folks who want to listen.
Sarah McKinney (left), military wife and professional musician, agreed to team up and lead worship to add music to the the training session. This gifted worship leader, releases love for God through every note she sings. She inspires me in the way she has learned to completely release her gifts and the overflow is powerful.
Some thoughts about what I learn from Sarah:
 Release all thought of yourself when serving in your gifting. Let the Holy Spirit well up and pour out with abandon. When we are afraid of making mistakes or concerned we aren't  "good enough," our self-consciousness holds us back from the full power of what God is up to.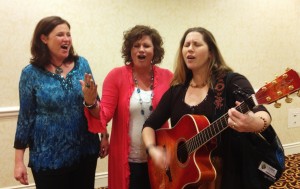 The other talented lady in this group is Mary Beth Hightower, an Army Band musician who can play just about anything. She strums her guitar and sings rich harmony with style, spunk, and sincerity.
These ladies were crazy busy doing music all weekend as worship leaders for the conference and time to practice ahead of time didn't happen until 30 minutes before our workshop. God gave me great confidence that this would enable our worship to be spontaneous rather than rehearsed. Because these ladies are true professionals, it all came together with joy. Snuggling my voice up next to thiers was harmonic bliss:)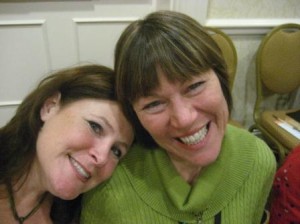 This next gal is Deb Easterling, my Kansas BFF. We got to be friends by rooming together on a trip to Japan and Korea, as we served as leadership trainers. A few weeks before the conference I sent Deb a skit with a "pretty please….help me!" She stretched herself about a mile outside her comfort zone and reluctantly said yes. She did a fantastic job, though she may never tell me yes again.
Lesson learned from Deb:
 Trust God, even if you think you were crazy to say yes.
All of these talented women serving God are a very special breed–military wives! The conference was jam-packed with many other extraordinary women who love God and a military man. Somehow, through sacrifice and fidelity, mobility, flexibility and sheer tenacity, military wives take a note from the Army slogan–Be All You Can Be!
If you want to see more pictures from the conference click on my facebook page in the right sidebar.