Holy in the Moment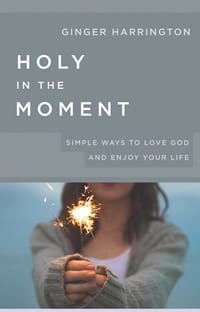 "A pour-calming-waters-into-an-overbusy-life book."
–Carrie Daws, author and speaker

"Eye opening, thought provoking, and heart changing."
-Lorilee Sheviak, counselor, Grace Ministries

"This book is powerful – raw – purposeful – challenging. I love it!"
—Michelle Kiefer
Sometimes I catch myself reading a portion of Scripture with a bit of an argumentative attitude. Ever done that? When the words of God are shockingly different from our cultural mindset and worldly way of conducting life, it is easy to cross my arms and want to dig in my heels. When I don't completely understand how or why, I can default to doubt or bossiness–just keeping it real here. I am humbled when I remember many situations when I have prayed about an issue in my life from the mindset that I know exactly how to fix it; I just need God to do it. It is easy for a desire to solve a problem to become an agenda, ever noticed that?
Speaker and Innovative Ministry Leader
"Great speaking style! Super engaging…she was talking to ME!"
–Angela McGennis
---
"Ginger delivers the perfect mix of humor and heartfelt convictions."
-Patti Perrin
International speaker and innovative women's ministry leader, Ginger Harrington loves sharing God's word with women. With over 10 years of speaking experience, Ginger brings encouragement, truth and authenticity to every group she meets.